On 10th July, we held the final event in our Work Happy series, this time honing in on the power of workplace design to boost productivity and happiness at work.
Over the past six months, we've spoken to experienced entrepreneurs and visionaries who have shared techniques, tools and strategies to broaden our thinking.
Henry Stewart of Happy Ltd. told us how to own up to our mistakes and empower our people, and Sally Lovett broke the news that what you eat at lunch might ruin your day (a hard one to swallow). Jodie Cariss eloquently explained the taboo of talking about mental health at work, whilst Tony McGaharan shared the ingredients of Google's secret sauce. Last month, our penultimate speaker, Ben Gateley, explained why you can have too much of a good thing when it comes to flexible working.
Along the way, we've heard from a whole host of other clever and passionate humans on how to engage the future workforce.
Closing out the series, our speakers this month hailed from notorious British boot brand, Dr.Martens.
Holly Smith, DM's Chief Culture Vulture, and Chris Sayers, the UK's Property and Safety Manager, spoke to us about their experiences in office design, and why the design of their workspace matters to their people.
What we learned:
Chris began by explaining, in a nutshell, why he believes the philosophy around office design has changed, 'a collection of office cubicles are from a time when pay would motivate people. That isn't the case now'.
Chris believes that because most people now view their work life as a continuation of their personal life, the office space itself should reflect the people-and what they're working for within it.

Designing a space that reflects your brand: 
Chris advised that the most universal alterations for creating a more modern office would be opening up the space, making sure there's room for collaboration, and ensuring technology works seamlessly in tandem with the people using it.
However, he finds that people are happiest when working somewhere where they can relate to their company's purpose as well as their own.
It isn't enough to list the values on the wall, the essence of the brand should fill the building, 'people need to feel inspired to work towards their brand values, and the right space should be inspirational'.
Naturally, good office design won't just help you retain great talent but will help you attract it too, 'when people come to interview at the office in Camden, we always get a great reaction'. Creating a space where people are excited to walk into is a crucial step towards keeping top talent in the building.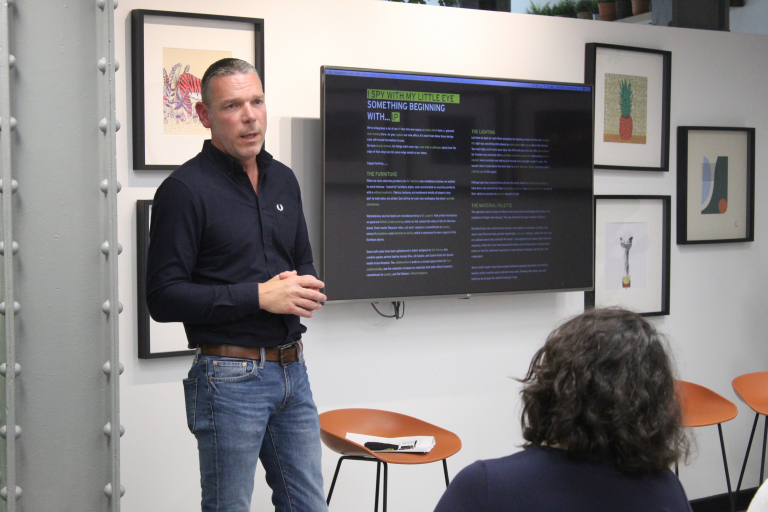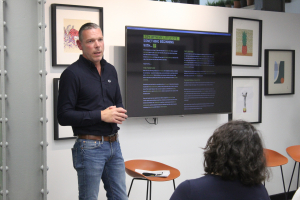 Chris also acknowledged the benefits of marrying design with culture, and the importance of guiding people to use the space effectively, 'you can't just design the space and hand it over, continuing a wellbeing culture is key'.
Another key point to remember is to always keep one eye on the future by leaving some room to grow, 'our Camden office has grown from 120 to 280 people in two years–adaptable space is key'.
Finding contractors who understand your vision: 
When Chris was called in to oversee the design of the new Dr.Martens head office in Camden, his first task was finding people to go on the adventure with him: 'Finding the right people, be it architects or designers, will set you up for success because if your team's heart is in the project, they will want to deliver.'
Chris explained that the original brief for the Camden office was purposefully low on details and high on keywords, 'The office needed to reflect our vision and the brief did too. We talked about rebellion and self-expression because that's something the business can relate to and so could our architects.' Chris told us that a lot of the design came from the keywords in the original brief.
Once the design team are on side, it's important to find out what your team see their space looking like.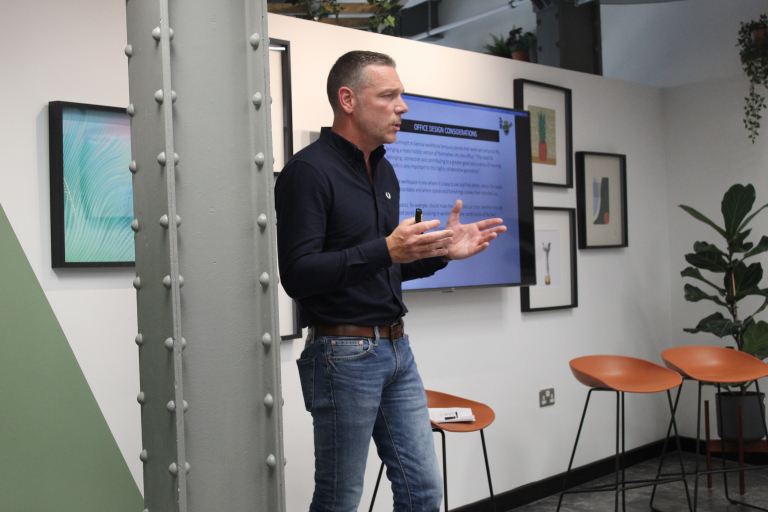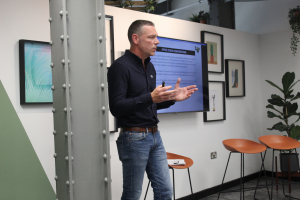 Chris stressed the importance of interviewing separate teams: 'Delve into how they work, how many meetings they have and what creative space they might need to work in.'
Although you won't be able to cater to every individual, it's worth remembering that each team requires a slightly different working environment. If you can account for that variation, your people will thank you.
Making your values (not your product) come to life: 
Chris acknowledged that it would have been easy to create an office for Dr.Martens with boots placed artfully around the building. What him and his team instead decided to do was to hone in on the intellectual property of a classic, Dr.Martens boot to subtly introduce clever elements to the office design.
Amongst many ingenious design touches, Chris highlighted yellow lights along the corridor which resemble the stitching on a Dr.Martens boot, boot heel loops instead of door handles, and meeting rooms named with different music genres: 'It was important to show we were heavily influenced by music but we wanted the space to be refined and authentic too.'
To thoughtfully design an open-planned space, Chris suggests kitchens in the middle ('it creates intrigue and brings people together'), and using foldable walls to make four small rooms into a space big enough to hold 80.
When Chris was given a lower budget to revamp the third floor of the Camden office, his team picked key elements from the other floors (the open space and central kitchen), and furnished the rest of the space with neon signs and posters, 'a small amount can make a fairly large difference'.
To emphasise the collaborative nature of the company, and their democratic values, Chris ensured only directors were given offices. Selflessly, the CEO has a view of the bathroom windows, 'We wanted to make sure that the team have the best view'.
Sweating the small stuff: 
The facilities themselves should also reflect what's important to the people in the space: 'We realised no one enjoyed the coffee and people were spending money on coffee outside of work. We installed a new machine which wasn't overly expensive and it's massively engaged people in wanting to be there.'
Allowing people to bring animals into offices is becoming commonplace. Although the Dr.Martens London office doesn't allow furry friends, their American colleagues in Portland can bring in their pooches pending proof of their sociability, 'All of the dogs need to do a test to be allowed to be in the office to make sure they aren't hostile or too distracting'.
Culture Vulture, Holly, then took the floor to discuss how Dr.Martens are channeling their success into their team after a year of 23% like-for-like growth.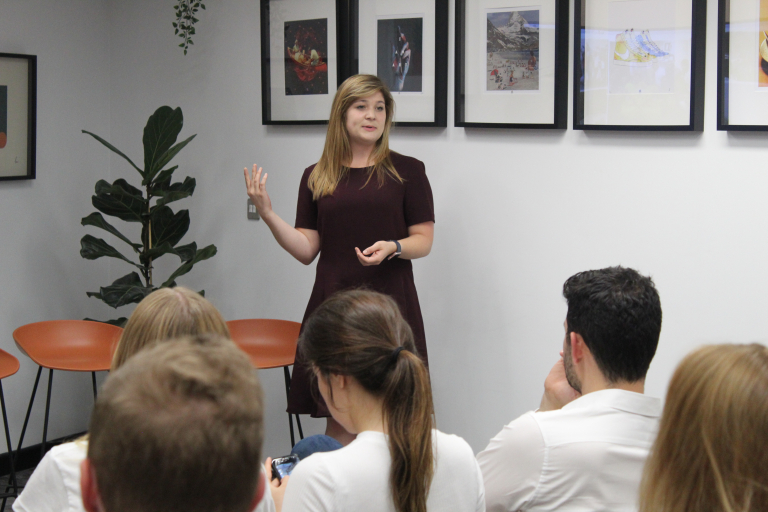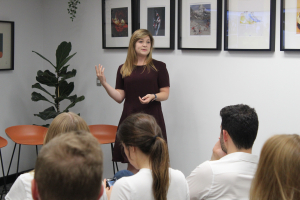 She first stressed that, 'people work to make money to live their life outside of work'. So, at Dr.Martens, they focus on four areas of wellbeing to improve the working lives of their people, 'physical, mental, social and financial'.
All members of staff receive perks and discounts off local gyms and health venues, and are also offered in-house yoga.
When it comes to mental wellbeing, Dr.Martens offer an employee assistance program and 'music rooms' which are sound proof booths where anyone can work alone and take some time out of the often manic London environment.
The team also like to host quiz night socials, music events or even BBQs on the roof to encourage team members to bond outside of work, and form stronger working relationships.
Panel Discussion:
For our panellist discussion, Chris and Holly were joined by David Kosky (Work.Life), as our host, About Time Magazine's Angelica Malin, probed the trio on ways to implement good workplace design.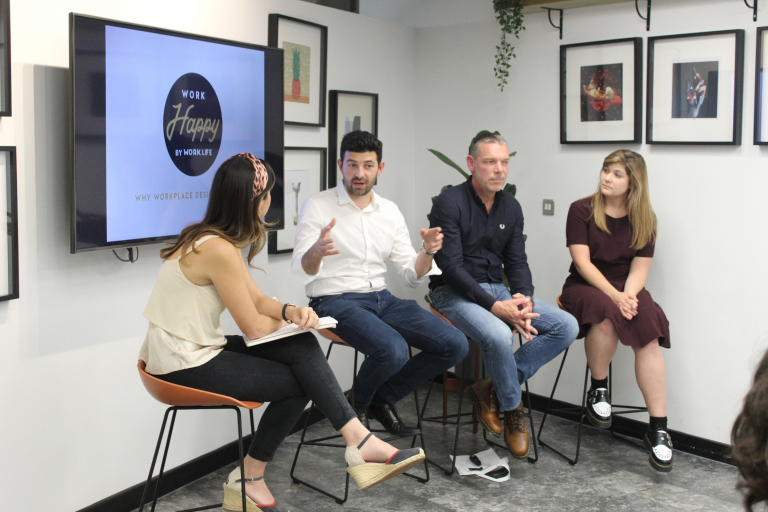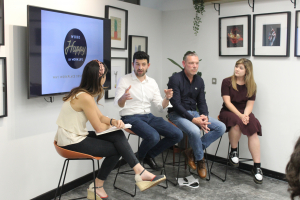 David is one of the co-founders of Work.Life and believes that life is too short to work somewhere you don't love. Since setting up Work.Life, David has been instrumental in opening nine new workspaces, and is passionate about workspace design and how it influences our behaviours and emotions.
Angelica kicked off with the million dollar question…
How does workplace design aid productivity?
David believes that good workplace design aids productivity by offering variety: 'People have different needs and reasons to focus throughout the day. Perhaps your mood changes, you need to relax, focus or think, or the type of work you're doing requires a different environment.'
David has found that if you're able to change your working set-up to meet these needs, then you'll find your most productive self at these different times in the working day.
Chris agreed, noting that open plan working means creating pockets of different areas and offering flexibility to move around the office, but stated, 'you still need a culture in place where if you're not at your desk, your manager still trusts that you're working'.
Should work feel like work?
With ping pong tables lingering in canteen corners in offices around the city, Angelica asked our panellists what they think about making offices spaces for play as well as work.
David thinks it does, explaining, 'work has become a consumer experience'.
He reasoned that if you spend time and money building an office, you need to incentivise people to come in and reap the benefits of socialising with their colleagues, 'From an anthropological view, I couldn't work alone. I'd say the majority of us want interaction, though it depends on your workplace strategy'.
Holly said that at Dr.Martens, they're wary of forcing fun, 'To avoid pressuring staff into socialising, we offer something called 'club budget', where if enough people are interested in something, they're given budget to form a club'.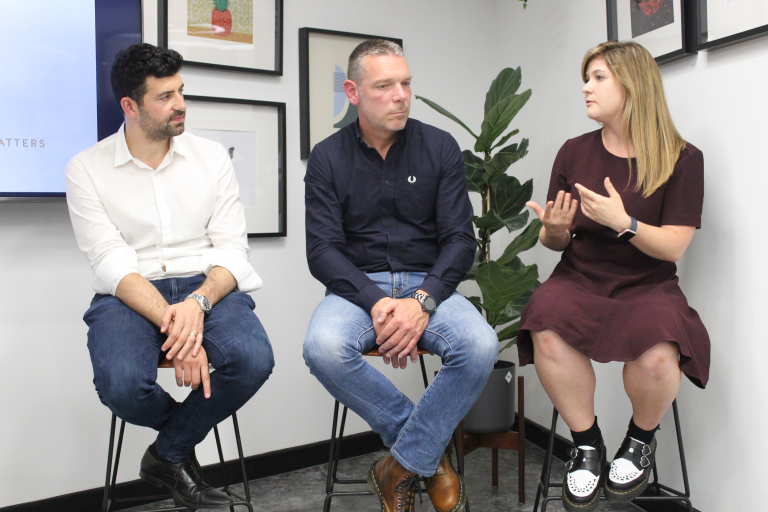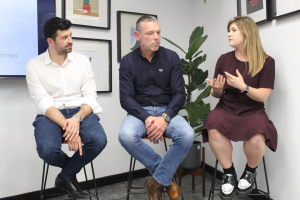 She also noted that psychological safety and security at work is vital. Holly has found some people struggle in social, open-planned workspaces, just as some may find working alone at home difficult: 'I have people tell me that flexible working makes them more stressed because they can't see how they're measuring up against their peers.'
Angelica then noted that aside from kitchens and private booths, many bigger businesses are now placing creches into offices to support their staff with families.
David agreed, stating that he's seen a real shift in the amenities office landlords offer in the past few years: 'It used to be that they'd maximise their square footage with desk space, but we're now seeing them take away lettable space to create amenity. They're putting in better showers, small cafes and gyms.'
Chris said that it comes down to people looking for an experience from their work: 'If they're going to come into the office, they expect an experience which will make their work day better.'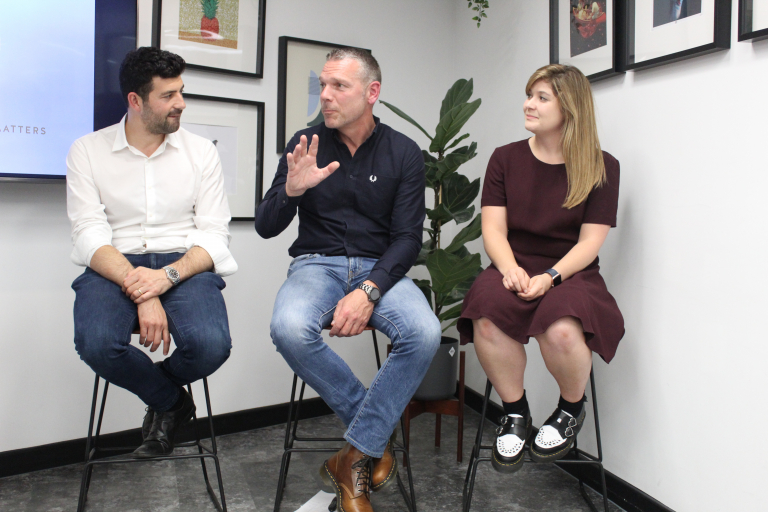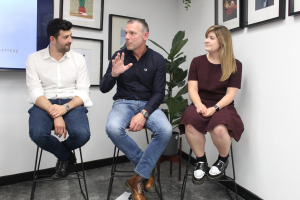 However, Holly noted that it can go too far in the other direction. She cites the rise in nap pods as an example: 'These sorts of things can create a negative work-life balance. It can encourage passionate workers to stay all night and we don't want to encourage burnout culture'.
When it comes to softer furnishings like plants and artwork, all of our panelists agreed that they're maximum impact, minimum effort additions to any office.
David cited the success of Work.Life's collaboration with Patch, where all Work.Life members receive office welcome plants and exclusive discounts to further spruce up their offices.
At Dr.Martens, a new balcony has inspired staff to start a gardening club, 'We have 20 volunteers already and it's an inclusive way to create collaboration and teamwork'.
So, can you measure the effect of design on workplace happiness?
Holly believes that you can through workplace design surveys which should be 'a major part of your annual or biannual engagement survey'. 
Dr. Martens have an open communication policy on which to receive feedback, 'we use a slack channel and the facilities manager in that office will get back to everyone who voices concerns'.
This has also leaked into Dr.Martens retail stores, where they have recently launched a competition to revamp the small back-spaces of the stores, 'we're asking the shop teams what they'd put in the back areas to improve physical and mental wellbeing within a certain budget'.
Holly has seen that if people are able to see their feedback being actioned, it has a marked effect on their happiness at work.
Top workplace design hacks?
David: 'Feedback. Ask for your teams' opinions on the design and function of your space'.
Chris: 'Make offices adaptable. Rigid spaces that can't evolve are difficult and will cost more money in the long run. Also, spaces grow and evolve like businesses, take ideas on board and start to implement them–people will remain inspired to be there.'
Holly: 'If you're doing something to tick a box, don't do it. Everything you're doing should be to make someone feel good'.
Finally, if you want to implement change in your organisation, our speakers agreed that capturing data is key.
Chris explained, 'it's not cheap to refurbish an office. Go to stakeholders with positive engagement on your ideas; whether it's a separate survey or a larger survey on engagement, they'll want to know their investment will be worth it.'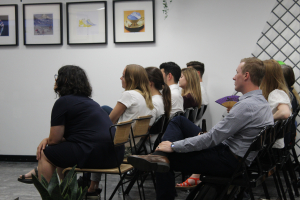 We're now at the end of our Work Happy series, where we set out to find the building blocks of workplace happiness.
After six months of questioning people in the know, one thing that we're certain of is that thoughtful investment into the happiness of the lifeblood of your organisation will reap big rewards. Please check out our previous blogs and stay tuned for the next series!