COVID-19 has changed everything about the workplace and the way we do our jobs. These are likely to be long-lasting (if not permanent) changes. As businesses and freelancers around the world discuss returning to work, how and where we're going to work are important questions. One thing is for sure; as we do gradually return to work, flexible workspace will be vital for the majority of businesses and sole traders.
So which future workspace solutions will be most suitable post-pandemic? What is the future of work and the office space as we know it? Let's take a look at some of the modern working solutions we might see after COVID-19.
Long-Term Remote Working (Full-Time or Part-Time)
Operating fully online has shown many businesses that they can work remotely and do well. Coupled with the fact that organisations will want to future-proof themselves in case something similar were to happen again, we're likely to see a higher proportion of employees work from home even once restrictions are lifted. Whether whole teams continue to work from home, or just some team members do, remains to be seen. Nonetheless, as businesses look for future office solutions after the pandemic, remote working will almost certainly be a consideration.
If businesses are planning to work from home long-term, they will need to invest in their staff's work from home set up. Working from a kitchen table or sofa may have been satisfactory for a few months, but in order to maintain productivity and prevent injury long-term, a work from home assessment, and the right home office set-up (ergonomic chair, adjustable desk, laptop stand and so on) will be key. Business leaders will need to invest in efficient home office space in order to ensure the wellbeing and productivity of their team.
Remote working and virtual communication will certainly play a part in the future of work, but that isn't to say that the office space is going to be completely redundant. There are flexible office space options we're likely to see be increasingly in-demand, as businesses look for modern workplace solutions post-COVID.
Looking to invest in a home office? Book a home workspace assessment for you and your team here.
Temporary Office Space
For some workers, it won't be as simple as either return to the office, or stay at home. After working in a more agile way during the pandemic, many teams and freelancers will continue to work flexibly, splitting their time between home and the office.
They may be happy continuing to work from home a lot of the time, but still need a flexible office space to meet clients, host face to face meetings, collaborate on projects, communicate with co-workers, and to have the option to access a more productive workspace when needed.
Teams and freelancers will have a few different options when it comes to accessing flexible office space.
– Short-term flexible office space for businesses
On returning to work, many businesses will be looking for a short term office rental that doesn't come with any commitments.
Of all the post-COVID workspace solutions, temporary office space provides the upmost flexibility for businesses, allowing teams to access workspace for a short amount of time (usually ranging from a one day pass, to two weeks or a month).
Without a lease or any commitments, a temporary workspace pass allows for complete flexibility to move around, and just use workspace as and when it's needed.
Find out more about Work.Life's temporary office space passes for teams.
Another practical option is timeshare office space – giving teams access to flexible workspace for up to three days per week. This is an attractive option for any businesses not quite ready to return to the office full-time, but who still need a place to meet and work. Find out more about Work.Life flexible timeshare offices.
– Pay-as-you-go hot desking for freelancers
After COVID, freelancers and smaller businesses will also be looking for as much flexibility as possible, so hot desking will be ideal for those looking to split their time between home and the office. Like renting temporary office space for businesses, the ability to access flexible workspace as and when it's needed is great freelancers or small teams who want to reduce their commutes, but still pop into an office a couple times a week without any commitment. After COVID, coworking spaces will prove to be a cost-effective solution that still includes all the benefits of being in a coworking space, but with complete freedom and flexibility. At a Work.Life space, to reduce the risk of spreading Coronavirus, hot deskers are allocated one seat for the whole day, and given a desk mat. Find out more about how we're making our coworking spaces COVID 19 safe here.
Looking for ultimate workspace flexibility? Check out Work.Life's Flex membership for pay-as-you-go coworking spaces – starting from just £20 a month.
– On-demand meeting room access
Some businesses will only want to meet with their team to collaborate every now and again. So, being able to book meeting rooms on-demand will be a practical option. Rather than investing in a permanent workspace to rent, a meeting room can just be booked for one hour, up to a full day, and is ideal for those just wanting to meet their teammates or host clients, without being tied into any office leases.
De-densified offices
When we return to work, many large companies won't have a need for a big office space; and will instead focus on de-densification and splitting up teams. There are a few reasons for this.
For starters, some bigger companies might have either downsized their teams, or have some members of staff working remotely, so they won't require such a large office space. They might also be looking to save on office rental costs by downsizing, and looking for small office solutions instead.
Many businesses will be thinking about the possibility of a repeat pandemic, and will want to split up their team to ensure they are prepared.
Additionally, companies will be looking to adhere to social distancing measures and ensure that they are providing adequate space for work life after COVID. If their existing office space doesn't suffice, they will be looking to de-densify, and move smaller teams to individual offices.
Given that employees are now so adept with video chat, conference calls and instant messaging, communicating with other teams using digital tools shouldn't be a problem. For bigger businesses, this may be the preferred solution – offering a flexible workspace, while saving costs and reducing risk. There are plenty of post COVID solutions to help with this.
Book a tour of a private office space here.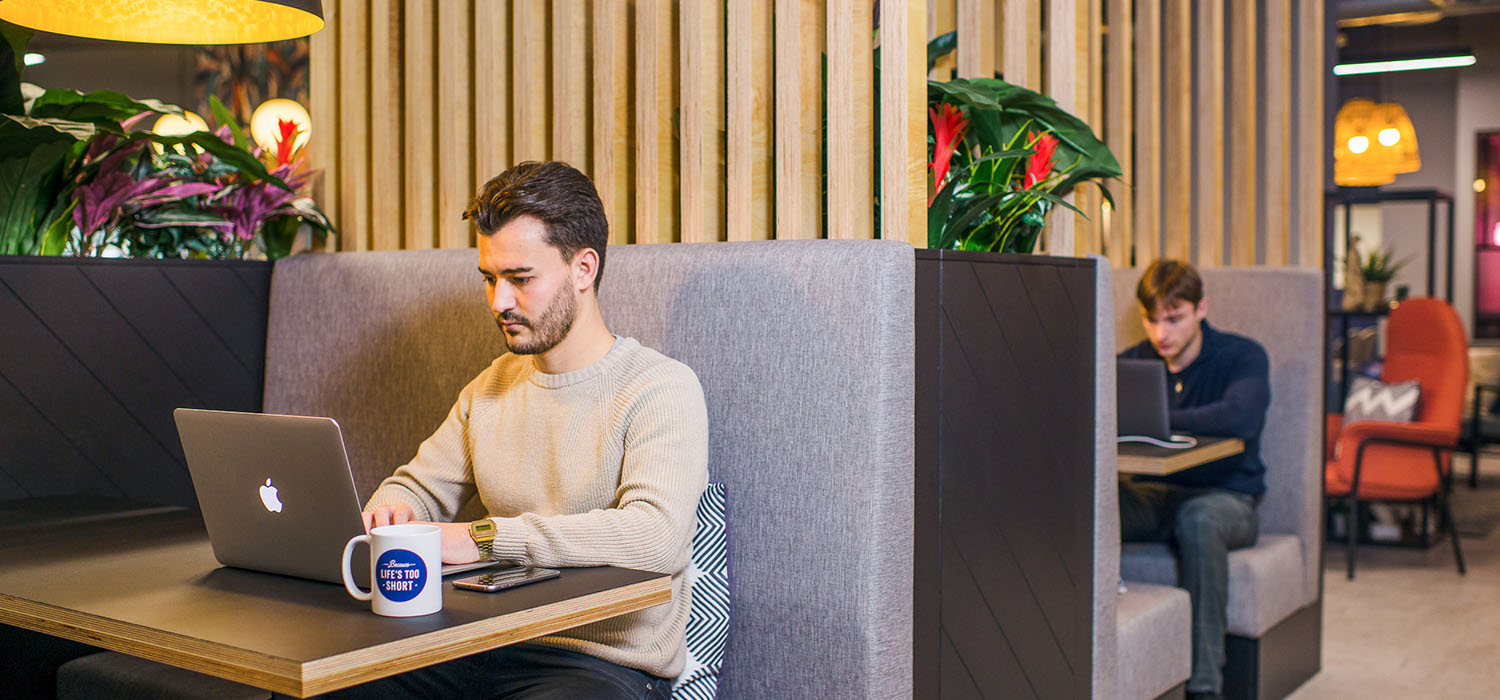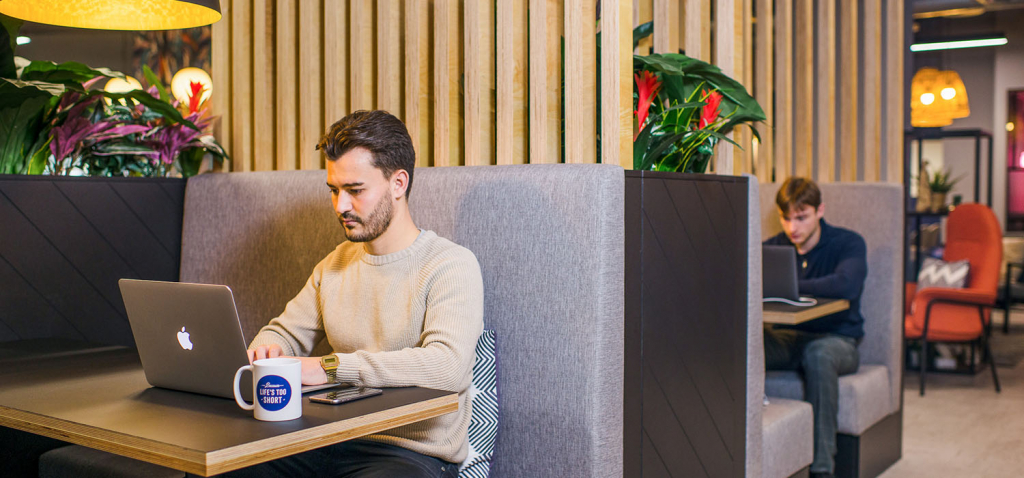 Flexible Terms
These are uncertain times, and so when it comes to workspace post COVID, many businesses will be reluctant to sign a long lease of 3 years or more. Businesses will also want the opportunity to shrink or expand their space as necessary. As a result, there may be a step away from traditional leases with longer terms, and a movement towards short-term, flexible contracts.
This could mean more people in flexible workspaces; both fully serviced office space, and managed office solutions.
For smaller business, a serviced office space provides the necessary flexibility, with the option to move to bigger or smaller offices dependent on team growth. Additionally, flexible office rental takes away the hassle of furnishing an office space, setting up bills, WiFi, and cleaning services for smaller teams. Find out more about Work.Life coworking office space options.
For larger businesses of 30 or more, managed offices provide flexible terms, starting at 12 months (with a traditional lease usually starting at 3 years, and sometimes up to 10 years). As well as being more flexible, they can help bigger businesses reduce their costs, by only utilising the space they need. Like serviced offices, they also have all bills, utilities and amenities taken care of, and rolled into one clear monthly payment. Find out more about Yours. by Work.Life managed office solutions.
Private Flexible Workspace
In coworking spaces, we're expecting to see a rise in requests for private office space, as teams will be interested in having their own personal workspace to rent.
Small teams who might previously have utilised hot desking in a coworking space might now look to rent a small office space to occupy. By renting a private office space, they still get all the benefits of coworking – all-inclusive bills and utilities, a fully-furnished office, and additional perks – but with more privacy, and the ability to upsize or downsize as necessary. Coworking office space will provide a cost-effective, adaptive workplace solution for small businesses post-pandemic.
Freelancers and teams who continue to use flexible coworking spaces will have strict social distancing measures. Most coworking spaces are already rolling out plans to make their spaces safe; including replacing hot desking with 'dedicated desking'. With a fixed or dedicated desk, workers are allocated one desk for the entire day, (rather than moving around between desks) to minimise physical contact.
Virtual Offices
For financial or logistical reasons, entrepreneurs might not want to rent a physical office space, but will want a registered office address and mail handling service. Virtual offices provide a business address to register a company, plus the addition of mail handling and holding – essentially, the professional business image without actually paying for a private workspace.
For entrepreneurs who have been starting a business from home, a virtual office is a cheaper, more flexible way to get an office address and register their new business. Equally, virtual office space can be a great option for those already working in an office but finding it challenging.
Post COVID, office solutions won't always need to be physical – businesses can operate predominantly from home and still have a prestigious office postcode to register their company and receive mail. Virtual offices are a great example of how businesses can adapt their workspaces after COVID-19.
Enquire about a virtual office address here.
Agile Working
Finally, across the board, we are likely to see people working in a more agile way.
COVID-19 has forced businesses to work flexibly and remotely, using digital tools to collaborate. In some cases, it has also seen employees working in different roles, with different team members, and even different hours. These are all key agile working principles.
The pandemic has already initiated a revolution in flexible working; many businesses who hadn't ever considered that it could work are realising how valuable it can be. According to a poll by Employee Benefits, just under half (48%) of employers agree that Coronavirus will impact employers' thoughts on flexible working.
Moving forward, businesses will be looking to save space, money and resources, and, following their success operating fully remotely, will be interested in incorporating remote working into their business. With that in mind, we're likely to see an increase in agile working in one way or another; whether teams split up, with some working from home and some occupying office space, individuals divide their time between both, or a mixture of the two.
There's no doubt that COVID-19 will have a lasting impact on the economy, businesses and office space. When companies are looking for workspace COVID is bound to be at the forefront of their minds. Work spaces after COVID may well change, especially as long-term social distancing and workspace guidelines come into play. The way we work will change too; as many organisations will also be questioning and re-evaluating their current processes, and adopting flexibility and new COVID office solutions.
This will mean a rise in new types of workspace in future; like part-time offices, virtual offices and pay-as-you-go coworking spaces post COVID 19.
Links To Flexible Workspace Solutions