Henry Stewart is Founder and Chief Happiness Officer of London-based training business Happy Ltd. Happy was rated one of the top 20 workplaces in the UK for 5 successive years and now helps other organisations create happy workplaces. Henry was listed in the Guru Radar of the Thinkers 50 list of the most influential business thinkers in the world.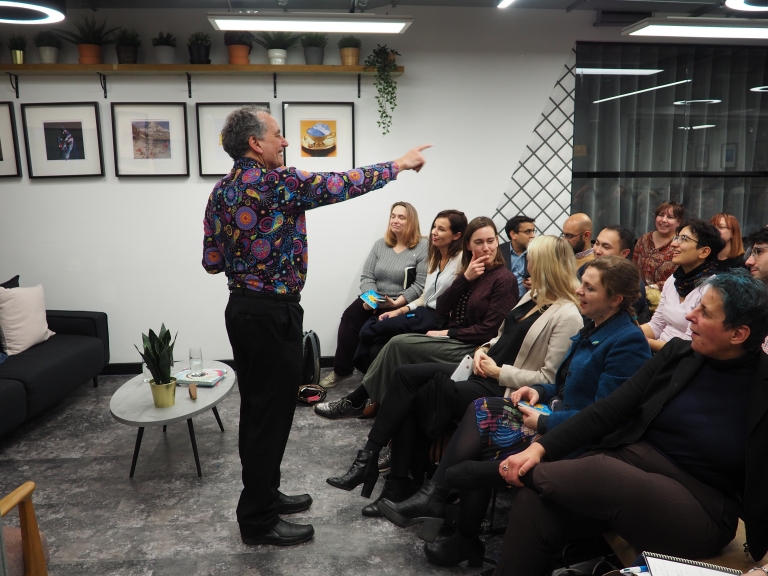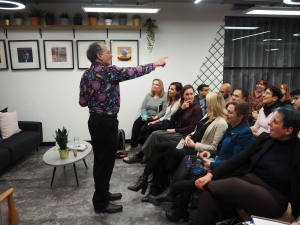 His book, The Happy Manifesto, was published by Kogan Page in 2012 and short-listed for business book of the year. We invited Henry to come and speak at our first Work Happy event and he wowed the crowd from start to finish. We wanted to know more about the man behind the jazzy shirts so sat him down and asked him a few questions…
Tell us a bit about yourself, what were you doing before you founded Happy Ltd?
That was a long time ago. Back in 1987 I helped found a national left-wing tabloid Sunday newspaper. We raised £6.5 million…. and lost it all in 6 weeks.
When and why did you start Happy Ltd?
After the newspaper failed, I briefly worked for a pensions advisory company who sacked me after 12 days. They said they didn't like my "attitude".
I decided I did like my attitude but that I didn't want to work for anybody else… ever.
What's a typical day at work for a Chief Happiness Officer?
Typical morning is 7:20 alarm, leisurely breakfast with the Guardian, meditation, 15 minute cycle to work, stopping at a café for a hot chocolate and reflection. I will normally then do some writing (for a book, blog post or presentation) and get into the office around 11am. Oh, and that's the first time I'll check my email.
I will check in with whoever is in, might have a session or two on new projects. What I won't do is make any decisions. For the last year I've made a point of trying to avoid doing that. Seems to have worked: sales are up 26% and profit has more than doubled as people take decisions where they have ownership.
The role of Chief Happiness Officer is to create the environment where people can perform at their best. That's basically about ensuring people are doing what they are good at (playing to their strengths), having the freedom to make their own decisions and having managers who coach rather than tell.
I might also have a client visit or a presentation on how to create happy workplaces. Most of my internal meetings (one-to-ones with the heads of department and the monthly strategy session) are fitted into one day a month.
Happy was rated one of the top 20 workplaces in the UK for 5 successive years, huge congratulations on such a mighty achievement! What do you think sets you apart from the majority of the employers in the UK?
A workplace fundamentally based on trust. We help people find what they are great at, give them real ownership and then give them the trust and freedom (within clear guidelines) to do their best. And if something goes wrong, we have a no blame culture and celebrate the mistake. It's all common sense really.
Our aim now is for our people to find joy in their work at least 80% of the time. And that means doing what they are great at, fully trusted.
Many of our Work.Lifers are still in the early stages of their businesses and managing people for the first time, what's a piece of advice you'd give to them to nurture a happy workplace as they grow?
Help your people to find what they are great at (never mind the job description they were recruited to), then trust them – agree clear guidelines and then give them the freedom to make their own judgements. And be clear that the role of the manager is to coach your people.
As you grow, find people who are truly great at that coaching role. And be clear: just because you set up the company and run it, doesn't mean you have to manage anybody. If that's not your thing, find somebody else to do it and focus on what you enjoy and what you do best.
What's your book 'The Happiness Manifesto' all about?
The Happy Manifesto sets down these principles, of how to create a happy, productive workplace.
What would you say is the biggest challenge that can interfere with happiness at work?
Managers who don't get it, who see their role as to be the experts and tell people what to do. And those who put in place lots of policies and procedures that get in the way of people doing a great job.
Thanks so much for chatting to us, to finish off we thought we'd ask you the quick-fire round we ask all our interviewees…
Morning person or night owl? Morning, but not too early. (A US magazine ran an article saying the most successful people get up at 4am. I loved the person who tweeted back "I thought the point of being successful was that you didn't have to get up at 4am")
Favourite film: Groundhog Day
Summer or winter? Spring is great, as long as it's not raining and I can get out on my bike
Sweet or savoury? Love a bit of chocolate
Cats or dogs? Cats I guess
City break or beach holiday? Cycling holiday through the mountains
Last meal before being jetted off to a desert island? A mix of Ottolenghi-inspired salads