So the secrets out: we're moving to Fitzrovia! Nestled between Marylebone and Bloomsbury, just a wee wander from Oxford Circus and with boho vibes aplenty, Work.Life Fitzrovia is the newest member of our growing gang.
From the fast-paced city dwellers crowding the bars at 5pm on a Thursday to the wide-eyed tourists enamoured with the architecture and gorgeous store fronts- Fitzrovia is full of life.
We're welcoming Work.Life Fitz to our blog with a guide to its top hot spots; the places we love, the places we can't help popping back to, and the places that will slowly but surely bankrupt our Fitzrovia team in the coming months… 
EAT
WL Fitzrovia has the joy of sitting atop Foley St which runs straight through the delectable Great Titchfield St and is just a three minute jaunt from the foodie haven that is Charlotte St. For a slice of the scrumptious and sociable scene of Fitzrovia our number one must munches are as follows…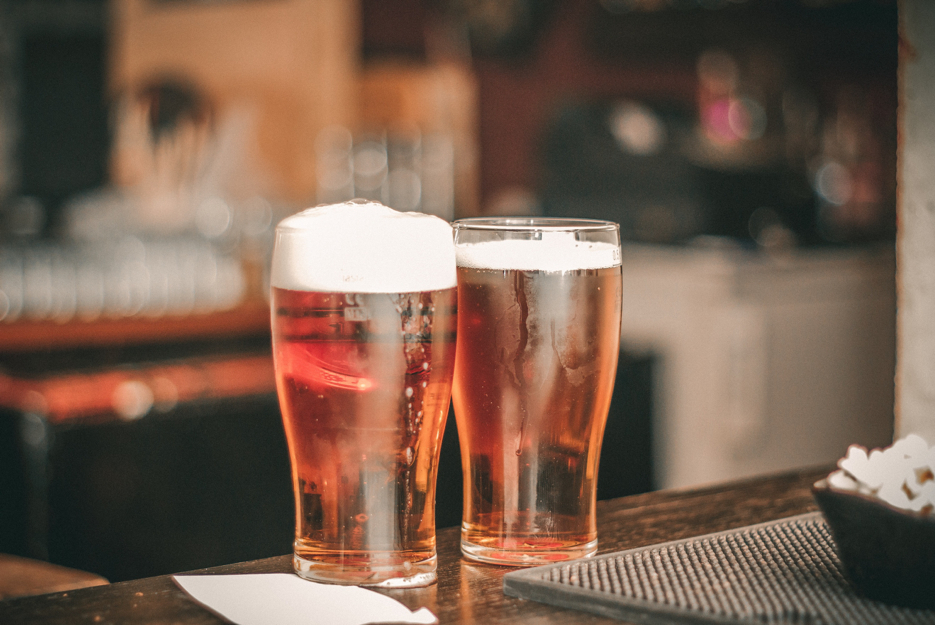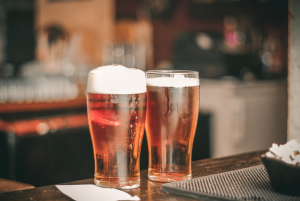 First up, a reliable English pub. Go for the old English nostalgia, stay for the sausage and mash. An English classic that has been dragged through the mud due to lack lustre gravy, the horse meat scandal and an increase in dairy intolerance that has instilled fear in mashed potato chefs around the country, The Carpenters Arms will make you believe in sausages again. If you're dairy intolerant or a non-meat eater (fair enough, cc horse meat scandal), they have plenty of veggie options and also put on a banging pub quiz on a Tuesday. Make it a regular team bonding sesh or bring your pals for some mid-week fun; there's an engineering round ?


Ever heard of The Proclaimers? No, us neither, but we're pretty sure Mac and Wild is the best thing to come out of Scotland since Alexander Bell invented the iPhone. Mac and Wild is supplied by co-founder Andy Waugh's family run game farm in the Scottish Highlands. Not for the faint hearted, they'll not only tell you how the meat got to your plate but also when and where it was sourced, down to the name of the person who shot it! Their haggis mac and cheese is outrageously yummy and the renowned 'Venimoo' has a bevy of best burger awards under its belt.  Wash it all down with an Irn-Bru daiquiri and although you may never make it back to the office we promise it will all have been worth it. Mondays are 50% off butcher's cuts or bring your pals on the weekend and enjoy their bottomless brunch if you're brave enough!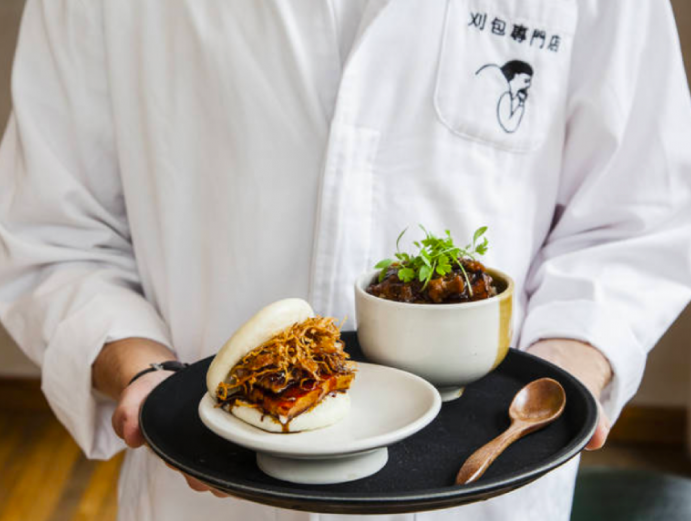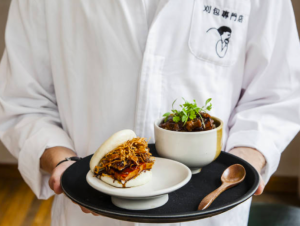 Finally, for kick-ass buns you gotta go to Bao. The eatery had its beginnings in a Hackney car park in 2014 and has since opened three restaurants in as many years. Open for lunch and dinner, they've got buns for days! Food comes super-fast but there's no slacking on taste and ingredients; everything is fresh and funky. If you aren't a bao believer, there's still a whole menu's worth of non-bao eats to try: we love their fried chicken and guinea fowl chi shiang rice and if you're partial to a chicken nugget why not take a walk on the wild side and try their beef cheek nuggets instead? It's a little pricier than your standard office lunch but eating at Bao is a Taiwanese culinary experience and the staff's white lab coats give it a real Wes Anderson vibe.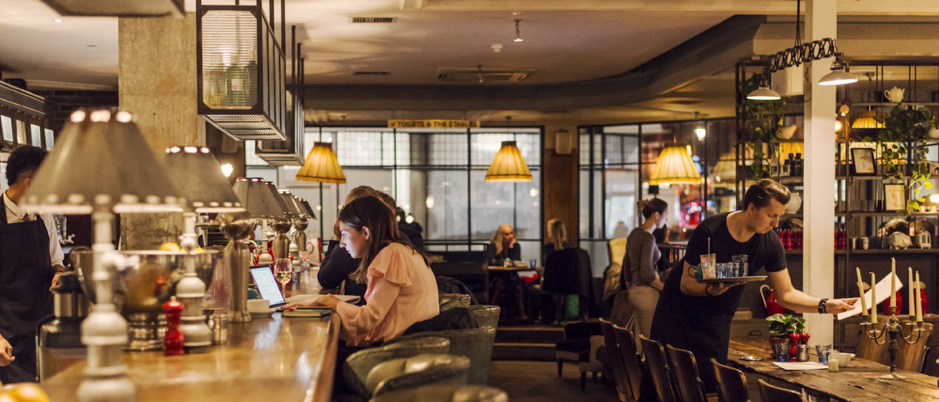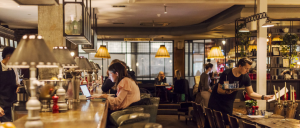 For boundless options, head to Riding House Café. Approx. four forward rolls from WL Fitz, it's so close we can almost smell their pancakes from the front desk. Riding House is another Great Titchfield St. winner we can't get enough of… We'd recommend trying a few of their super reasonably priced small plates or stopping by for a Sunday roast. Their cocktail list is legendary- you're gonna need a Café Classic- and whether you want breakfast, lunch, drinks, snacks or dinner- it's literally got it all going on. Be sure to book so you can sit on the super soft orange sofas!
DRINK
Just far enough away from the throbbing streets and bars of Oxford St and Soho to not be nursing your beer on the side of the road, and just close enough to enjoy that big city buzz, Fitzovia is the ideal sipping spot.
For chilled pub hang outs, we love both the Crown and Sceptre and The Fitzroy Tavern. The epitome of a buzzy boozer, The Crown and Sceptre is the kind of place you can cosy up with a book during the day or bop around with some beers into the early hours. Clean and cool but with an old English charm, they have an impressive range of craft beers and an interesting spirit selection for those who aren't so accepting of the 'house' option. We'll be headed for their delicious hot gins in the coming months as the winter chill sets in!


A little scruffier but steeped in history, The Fitzroy Tavern is an old school sight to behold, with mahogany partitioned walls and ornate, lincrusta ceilings. Commonly accepted to be the place where Fitzrovia got its name, the establishment has been licensed a good 150 years. Dylan Thomas drank here so be sure to have a good poke around. Word to the wise, if it's a hot day, ask to sit in the room at the back… it's the only one that's air conditioned!
Naturally, Fitzrovia has mountains of coffee offerings to bolster the brains of the media and fashion crowds who work in the area. If we had to pick one, it'd be Kaffeine on Great Titchfield Street. Inspired by the inimitable (until now) coffee scene in New Zealand and Australia, Kaffeine is out to make coffee great on our fair island. With long blacks and flat whites a plenty, Kaffeine is crowded but oozes cool and frankly has some of the best coffee we've tried in the big smoke. They hold events too, the most popular being their 'Latte Art Smackdown' series where there are ridiculous milky scenes to behold; have you ever seen a triceratops floating on your coffee? Neither had we…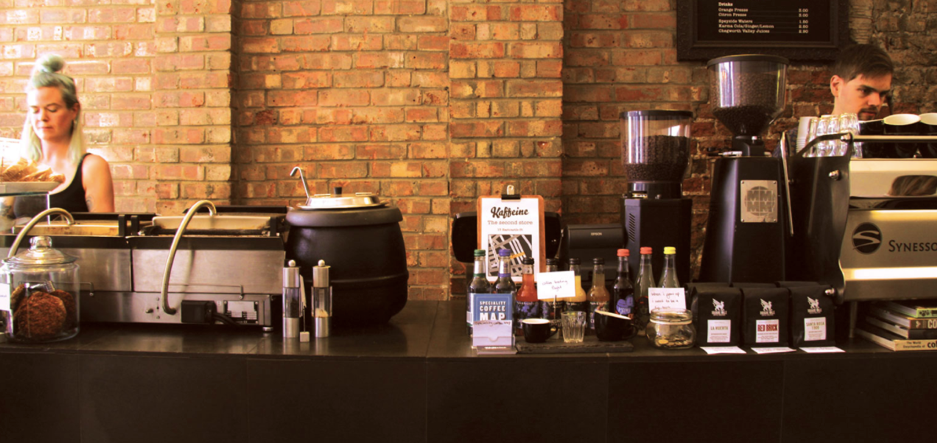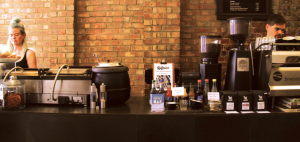 If you're thirsty and your Instagram feed is flagging, 5 minutes scroll stroll away from WL Fitz is the buji and beautiful Bourne and Hollingsworth. Created in 'a spirit of excess' the bar has a very luxurious feel whilst simultaneously feeling like you're at a (albeit very fancy) friend's house. Their cocktail menu is as long as it is delightful and changes season by season. It's a world away from the chain restaurants and sticky floors of Tottenham Court Road and the perfect spot to stop with visiting friends and show off the delights your city has to offer.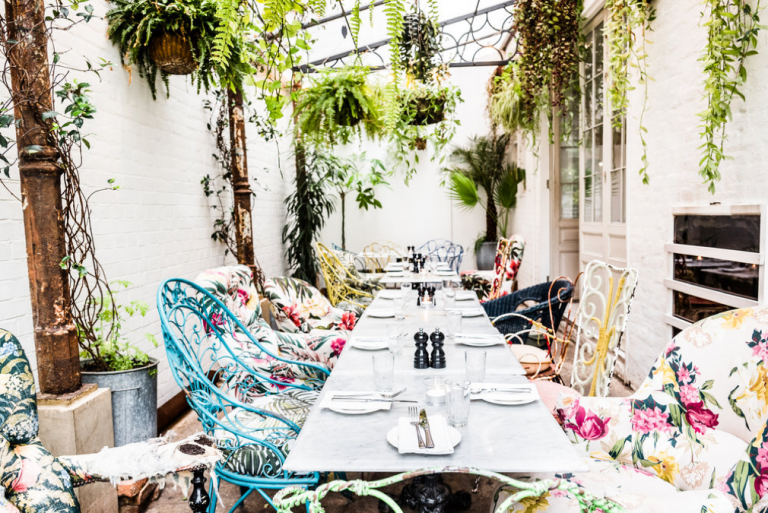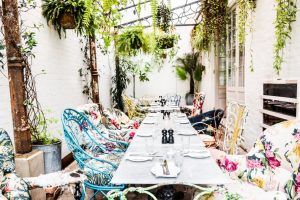 EXPLORE 
You might think of Fitzrovia as the posh bit by Oxford St. but lingering amongst the grandeur is some bona fide soul. Virginia Woolf, George Orwell and Dylan Thomas all spent time living and working in the area, so you're sharing the streets (and of course the watering holes) with some all-time literary greats.
Though their escapades exist now only in books (and maybe a Woody Allen movie) there's no shortage of culture to find in Fitz.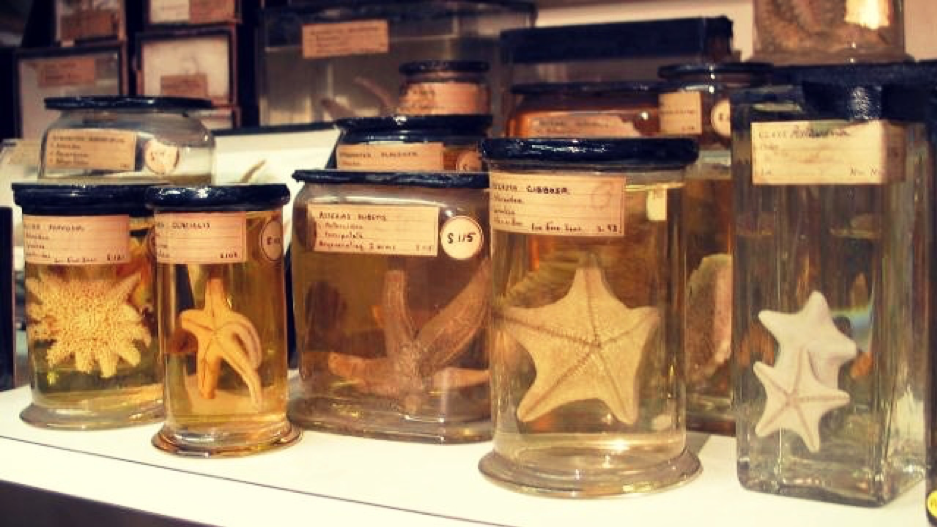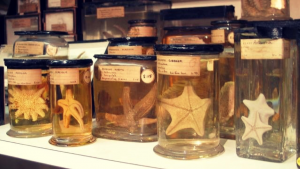 An oft overlooked treasure of Fitzrovia, the Grant Museum of Zoology is a bitesize Natural History Museum. Much easier to consume in an extended lunch break, this is a perfect place to head when you're in need of some time out from the screen. They boast a dodo and a Tasmanian tiger amongst their collection of fossils and animal specimens, plus a lot of miscellaneous floaters in jars, and who doesn't love a miscellaneous floater?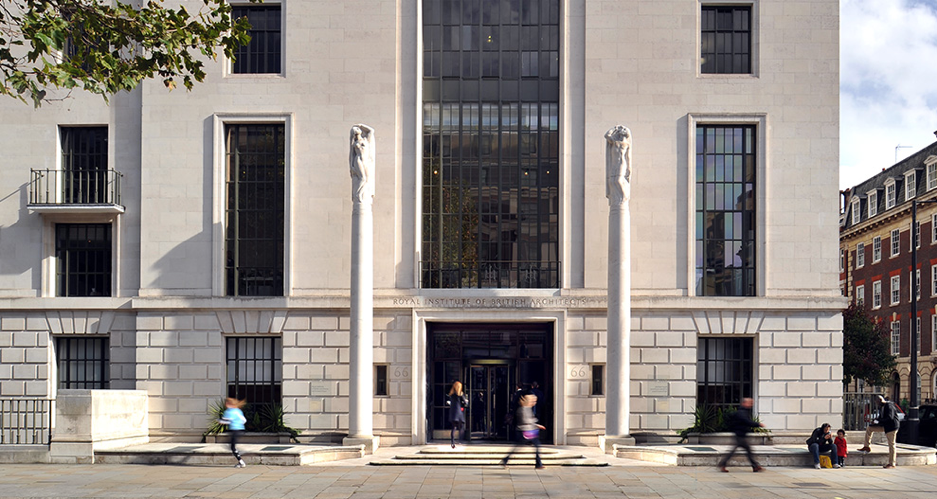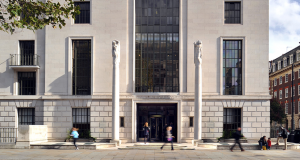 The Royal Institute of British Architects sits in all her glory on Portland Place. Just a five minute walk from WL Fitz, this place is an art deco dream. Other than ogling the building itself, you can visit the beautiful RIBA library and wander its 4 million (!) itemed collection or take in their exhibitions. Right now, they have commissioned Disappear here: On perspective and other kinds of space by Sam Jacob Studio. This exhibition leads you through deceptive murals, cunning architectural structures and a film which traces the history of perspective through time and technology. It's a genuinely intriguing exhibit, and it finishes in October so get your skates on!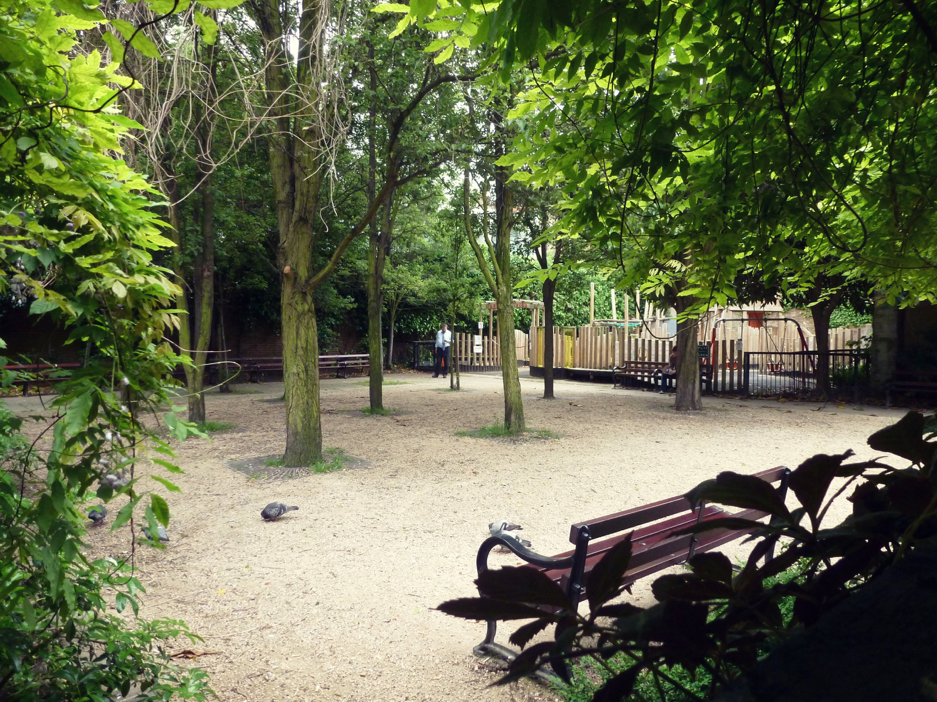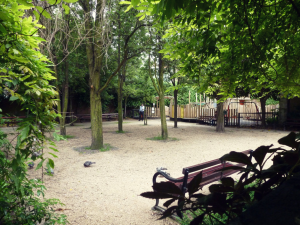 Of course, we wouldn't leave you without your green fix… Fitzrovia hits the jackpot with Crabtree Fields. Tucked away on Colville Place, Crabtree is a little slice of serenity amongst the madness. There's lots of seating for sandwiching on, plus a play park for little ones but mostly it's a quiet oasis, perfect for reading or getting a little R&R in between meetings. It's also on the doorstep of the aforementioned Bao, so maybe eat your bun al fresco?
EXPERIENCE
A melting pot of Soho's edginess, Marylebone's grandeur and Bloomsbury's beauty, you won't be short of things to see or do on your lunch hour. But if you do have a minute, you must meet the wildlife. Fitzrovia is home to an original Banksy rat. Nicknamed the 'illegal rat', the graffiti has managed to outlast building renovations and angry councillors to become one of the few rats (a common motif of Banksy's) to last. Check it out on the corner of Clipstone and Cleveland Street; we wouldn't wait around on this one as due to his aforementioned illegal status, the little guy could disappear at any time!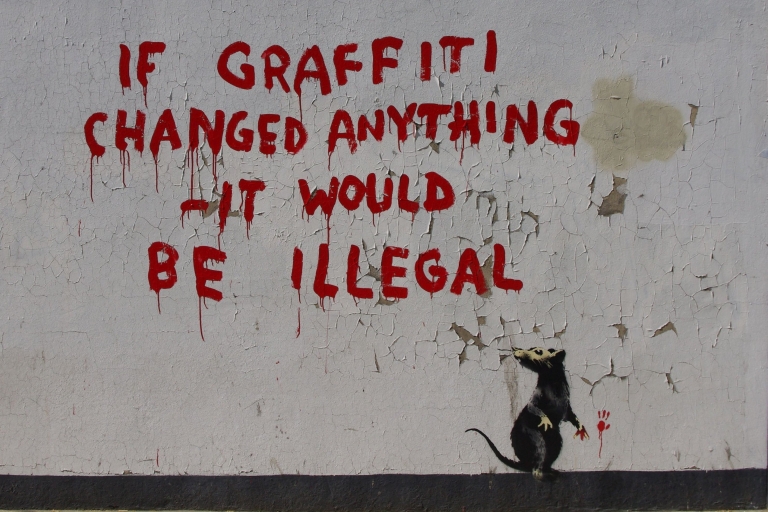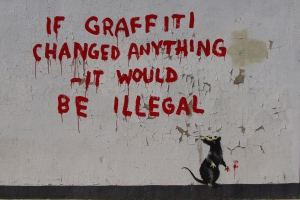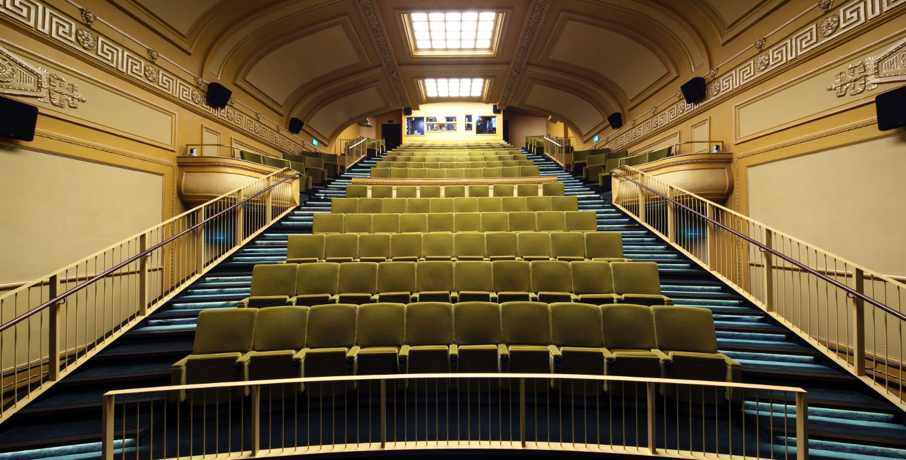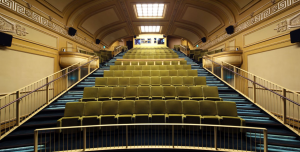 Swerve your £18 Odeon ticket and try Regent Street Cinema. A trailblazer for film, the cinema was the first in Britain to show moving footage and the first to screen a cheeky 'x-rated' film. It closed in 1980 and was used as a rather dull and dilapidated lecture theatre until 2015 when enough money was raised to restore it's 1920's art deco features to their former glory. Widely acknowledged as the birth place of British cinema, grab some popcorn and spend an evening here like oh so many before you.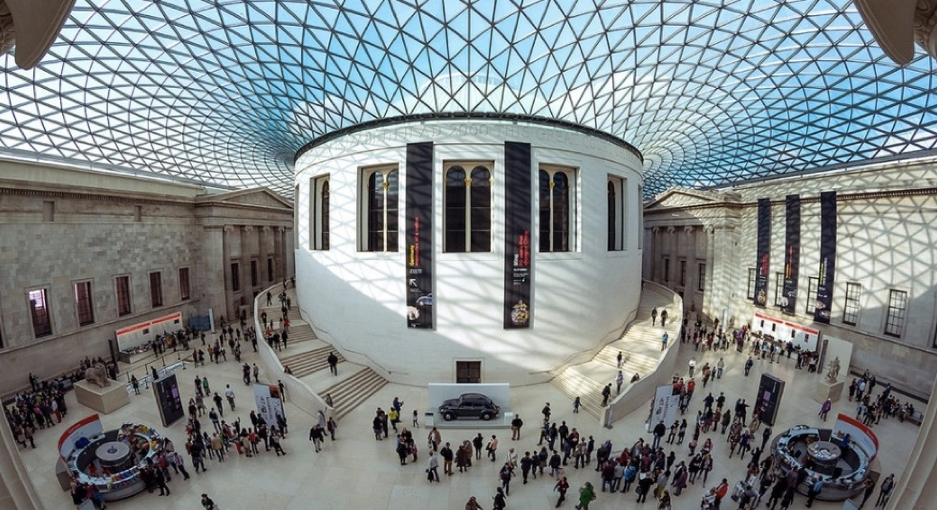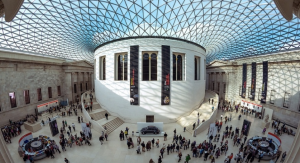 The winner of the coolest roof award and one of the few places that we'd spend hours looking at stone, the British Museum is up there with the top tourist spots in London. Tourist or not, it's a seriously impressive building, beautiful inside and out. It houses arguably the most important historical artefact ever discovered, the Rosetta stone, alongside a multitude of fascinating items, most of them thousands of years old. Word on the street is it takes 2 weeks to clean all the roof windows, so the least you can do is stop by to take a look.
So now you know… Slap bang in the middle of central London, Fitzrovia has an intoxicating personality all of its own. We're delighted to be a part of it…
We open in 2 weeks, come work and play, we'll happily show you around, book a tour here.