It's the city that powered the industrial revolution, kick started women's suffrage, spearheaded British vegetarianism, invented the computer AND brought you the modern British boyband (cue 'Relight My Fire' circling your head for the entirety of this day). Driven by invention and discovery, Manchester has cemented itself as a cultural hub that thrives on creativity, hard work and entrepreneurial spirit.
We've gathered a list of our most favourite places to eat, drink and explore in this beautiful city we're now so lucky to call home. (Covid update: as of October 2020, these establishments are open, but double check before you head there!)
So before we show you around in person, read on for a whistle-stop tour of the area around our gorgeous digs in Manchester and see for yourself what all the fuss is about.
Where To Eat Lunch In Manchester
When you think of Northern cuisine, we wouldn't blame you for thinking Yorkshire puds, chips 'n' gravy and everything (and anything) in a pie. Porky Pig on Cooper St. wouldn't blame you for that either. In fact, they actively encourage a little Yorkshire pudding lunchtime action.
'Porkies', as they're affectionately known, had their beginnings as a Christmas market stall and built such a reputation for themselves that by the time the first flowers had broken the frost, they'd found brick and mortar to house their gloriously English offerings. Most queue for the full roast set inside a giant Yorkshire pudding plate but the fun doesn't stop there! Porkies offer a full English topped with fried egg or your Sunday dinner in a Yorkshire pudding wrap. Recently, they've even brought a Yorkshire pud calzone to their menu- it sounds so wrong but, alas, tastes so right. Check it out for the novelty factor but don't be surprised when you spend the three-minute waddle back to the office googling homemade Yorkshire pudding recipes.
For something that won't pop you straight in a (contented) food coma, Grafene, lies in wait just around the corner from our Brown St space. Named after the Manchester invented and world's first 2-D material, graphene, the restaurant is as boundary pushing and creative as its namesake. They creatively serve exceptional food from breakfast to post-dinner dessert wines. We'd recommend sampling their 'British Tapas' menu where you can try a variety of their delightful takes on the British classics. Perhaps a little pricier than your usual working lunch, Grafene boasts beautiful interiors and an intimate feel; it's definitely a special occasion spot. Ask to sit in their outside area which features a sliding glass wall for those rainier days or take a seat at the bar and tell them what floats your boat- they'll mix you up something delicious.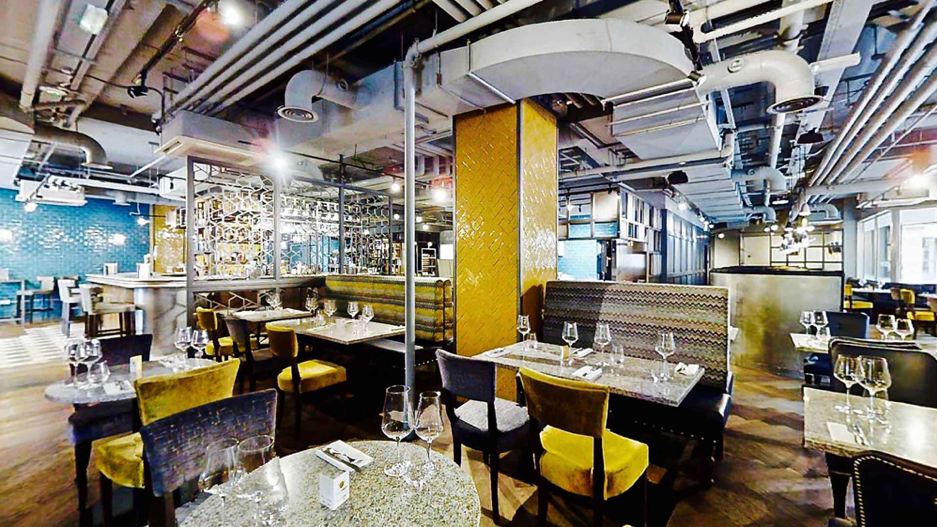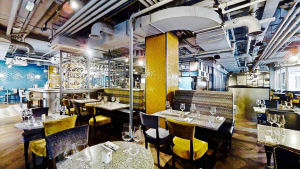 It's important that we let you in on our top brunch spot. This was a tough one to narrow down but, ultimately, it came down to- as it so often does- Turkish eggs. Are they smoky enough? Are they spicy enough? Is there too much dill? All valid and compelling questions. We're here to let you know that at Federal Café Bar: they are smoky enough, they are spicy enough and there isn't too much dill. A satisfying 10-minute stretch-of-the-legs away from WL Brown St, FED has all the brunch options you'll ever need. Apart from the aforementioned T-Eggs (yes, they're yogurty enough), you must munch on their toasted banana bread with vanilla mascarpone and their citrus avo bagel. To be honest, we couldn't recommend everything enough and if you pop by in socially acceptable drinking hours (we're gonna say after 12pm?) then have a bloody good Bloody Mary and order another Turkish Eggs to congratulate yourself on finding Manchester's best Turkish eggs… No, YOU talked too much about eggs.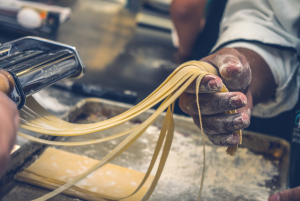 Our final rec is one to please the pasta fiends. Just a few minutes trundle from the WL office, Piccolino is a lovely, fail-safe option for group dinners and chilled lunch dates. There's nothing like the three Italian P's (pasta, pizza, prosecco) to make you feel warm on a cold English afternoon, and Piccolino won't let you down. We love their big old shared burrata to start, a plate of buttery crab ravioli and courgette fries to follow, with a wee limoncello to wash it all down!
Best Pubs And Bars In Manchester
With the highest student population in Europe (hello new business startups), and a tonne of beloved local brewers, Manchester has bountiful watering hole options.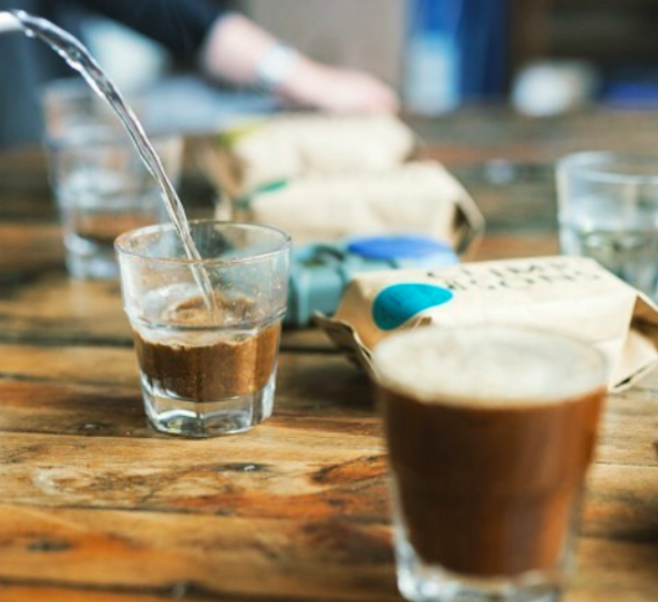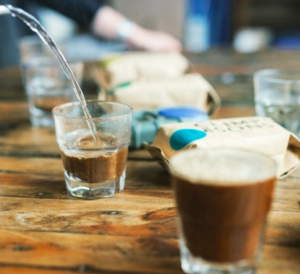 Whilst the aforementioned Federal Bar Cafe makes an exceptional cup of coffee (and Turkish eggs) we also adore Fig and Sparrow which is just a ten-minute walk- eight if you skip-  from the WL office. Fig and Sparrow use East London roastery, Climpson & Sons, to fuel their clever customers and the team there really know their stuff when it comes to caffeine, cakes and salmon salads. It's also a design store, so you may well end up leaving with more than a focused mind and a full belly.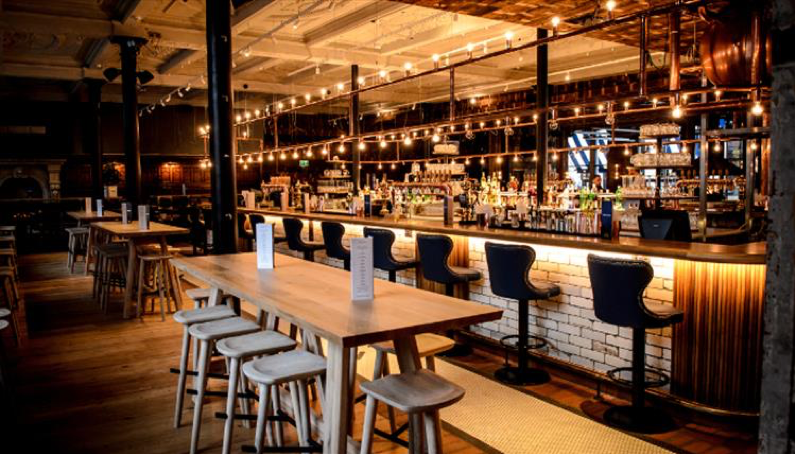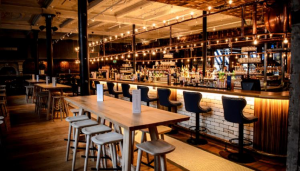 For after work sipping, the WL team's firm favourite is Alberts Schloss on Peter St. Schloss translates as chateau or palace and Alberts will kindly welcome you to their manor on bad days and good. Stop by the aptly and wonderfully named 'Bier Palace' and sample a pilsner or two from their super-varied and impressively large menu. Though they have a sumptuous bakery- cruffins and cronuts people, this is not a drill- Alberts is not your average bakery turned lunch place turned bar. They stay true to their boho Bavarian roots and hold lots of wacky night time events. Take in some jazz and cabaret or observe some wild performance art over your Kozel. This winter, they are holding 7 Days of Showtime every week, so you have no excuse but to down tools and embrace the madness! We're eyeing up their Bier x Sausage x Live Music Wednesdays. See you there for a Schloss's sausage?
For a gorgeous and cosy setting that'll give you those delightful country pub feels in the middle of the city, try Oast House. A widely adored Manchester hot-spot known for their rustic charm and infamous Oast Roast, this place is made for mulled wines by the fire with your pals. Alongside their banging cocktail menu, they offer all customers a chance to 'sip your selfie'. It's pretty special. Order an espresso or pornstar martini and stare at yourself – if feeling humble, pop your pooch on there-whilst you enjoy a damn good drink. Made for millennials, enjoyed by all.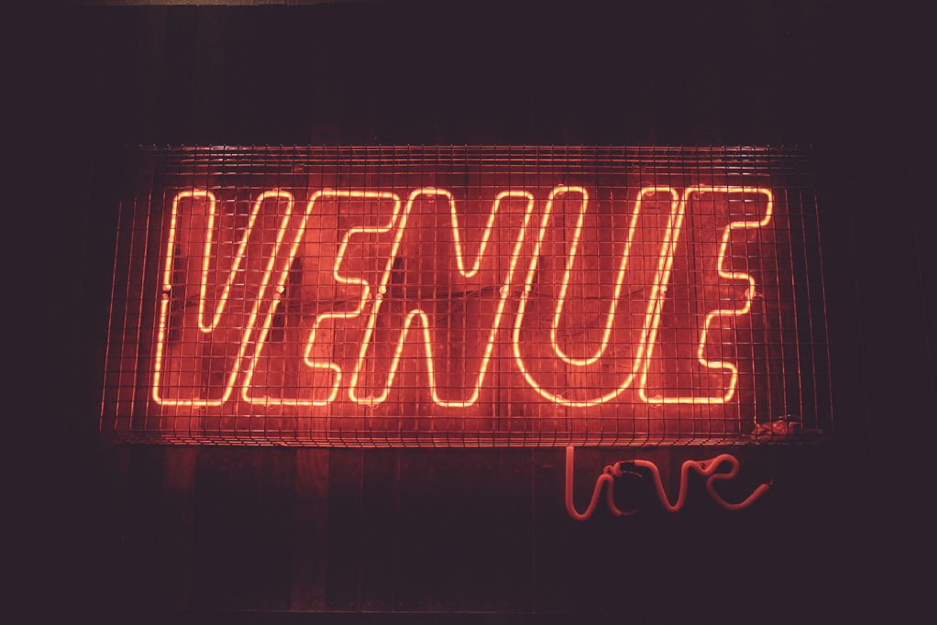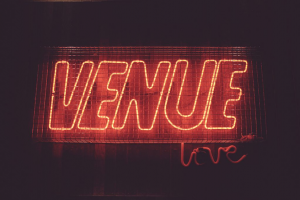 If you aren't quite sure what you're in the mood for then definitely take a wander around the Northern Quarter. A notoriously trendy neighbourhood, you can do anything from street art tours to vintage shopping and it's well worth spending some time here. There's a hefty bunch of bars to choose from but our number 1 is Patron, which sits in the heart of the area. Patron is a hip 'n' happening Persian inspired establishment with a real buzz about it. Try some of their delicious, middle-eastern light bites and sip on a zingy 'Calle-fornia Love' or go old school with a spicy 'Betty Draper'. Whether it's a spoken word night or an Italian quartet performance- there's always something going on down at Patron.
Other Things To Do In Manchester City Centre
Though Manchester is known for its symbolic bee symbol (an ode to the Mancunian worker "bees" which carried the industrial revolution in the UK), Manchester is equally as buzzing when it comes to art and culture. Aside from the beautiful architecture and the infamous cobbles of Corrie, the city is host to a mountain of treasures to see and explore.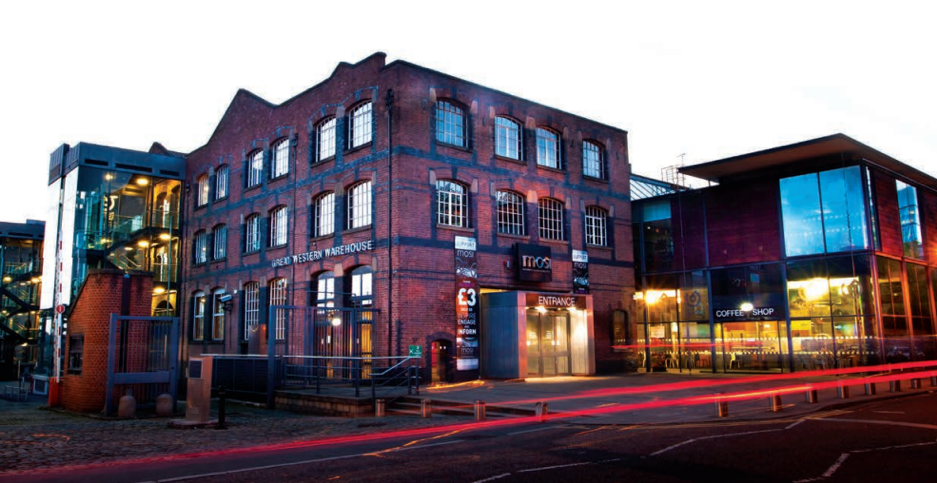 The Museum of Science and Industry is one such gem. The museum will take you on a good old fashioned educational journey through the ideas and vision of the men and women that made Manchester the engine room of industry that it was. If you're a locomotives enthusiast you probably already know all about this place as, on site, lives the oldest surviving passenger railway station and warehouse from 1830. Plus, Robert Stephenson's '0-2-2 Rocket' sits on display! Right now, you can check out their Spark of Life exhibition, which exhibits the weird and wonderful experiments scientists have used to understand electric technology, and highlights, through super cool contemporary art installations, how mass generation of electricity has changed our lives. Stop by for multiple 'light bulb' moments!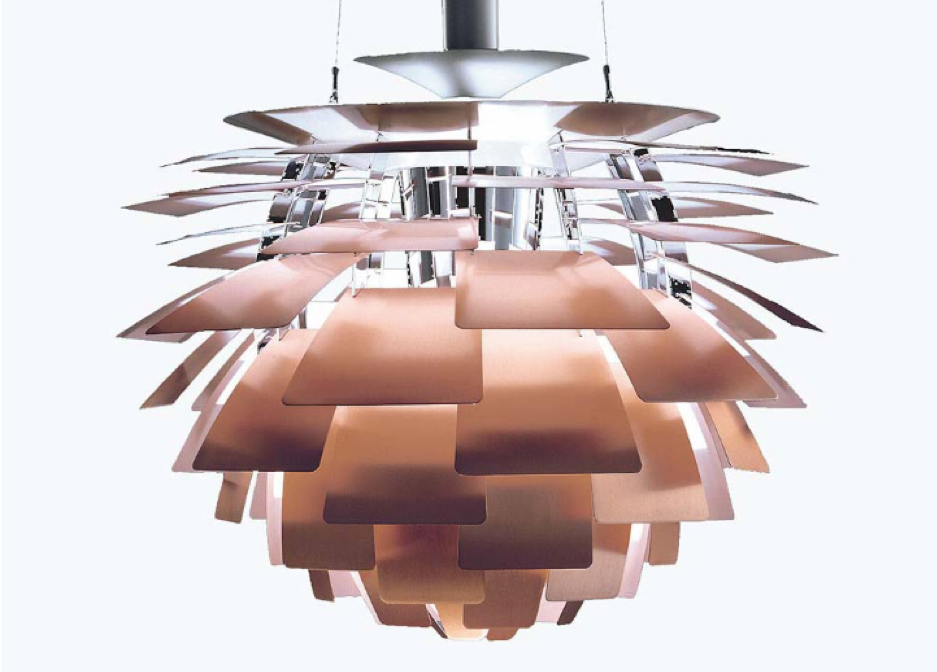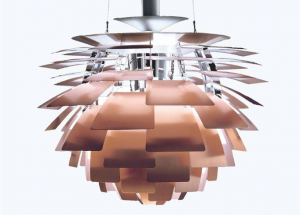 Nestled amongst the gorgeous architecture of Peter St., just a couple of streets from WL Manchester is the city's art gallery. A beautiful sight to behold, Manchester Art Gallery has something for even the most doubtful of art observers. Our favourite exhibition right now is the Nordic Craft and Design collection. A hygge lover's dream, the exhibit is full of curiously and creatively designed bits and bobs. You can feast your eyes on everything from Nordic fashion and ceramics, to chairs and jewellery. They also have a lovely exhibition on exploring the relationship between art and mindfulness- we couldn't think of a better lunch break breather.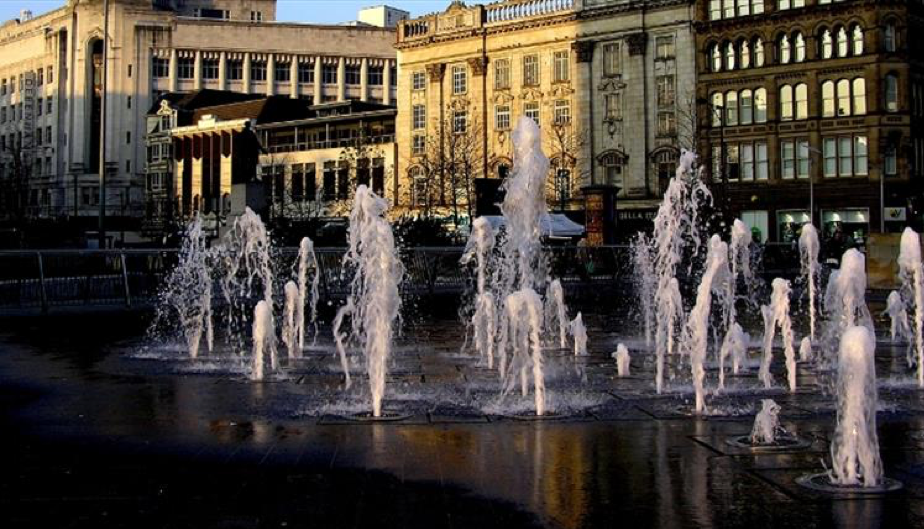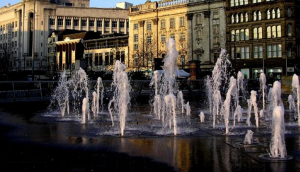 For your necessary daily injection of the green stuff, take a fresh, seven-minute jaunt to Piccadilly Gardens. The gardens have been a focal point of the city for years and are handily situated super close to the WL office. Take some time out and enjoy a lap lunch by the fountains or stretch your legs around the markets that pop up on the edge of the park.
Best Experiences In Manchester
Manchester is notorious for a great evening out (just ask Liam Gallagher), but there are masses of cool options that don't only involve a sticky dance-floor and a round of jägerbombs.
At over 130 years old, The Palace Theatre is still looking pretty damn good and is a true asset to Manchester's artistic community.  Not only do they regularly host runs of West End touring shows, The Palace are committed to multiple community theatre programmes. They also hold monthly comedy evenings with a host of big names gracing the stage.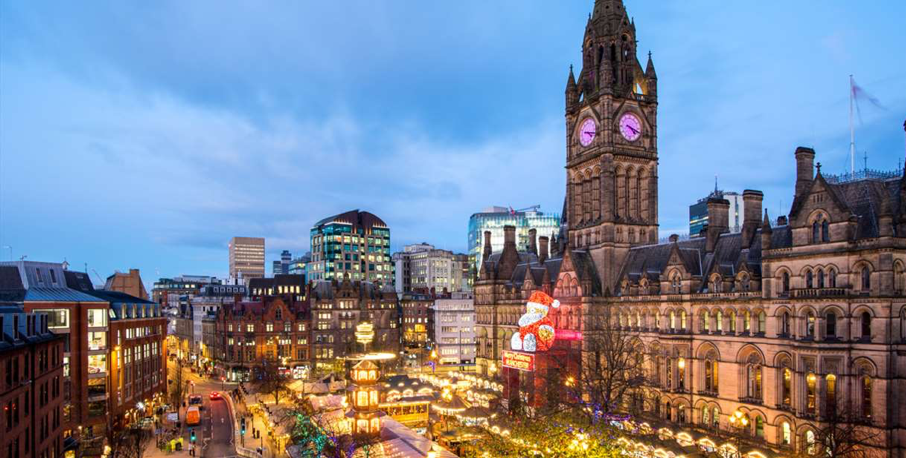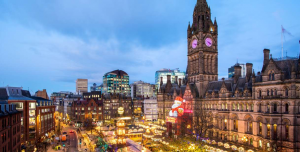 Apologies to the holiday haters but the Manchester Christmas Markets are not be sniffed at. Naturally, there's enough pancake and waffle stalls to feed an army (of elves) but many of Manchester's top street food vendors flock here to warm the chilly market dwellers. Apart from all the Porkies Yorkshire pudding madness, we love Elsie Mays who serve crisp Prosecco and hot, gooey cookie dough and Northern Soul who do incredible grilled cheese sandwiches. Food that warms your very soul. Aside from eating, you can skate, Christmas shop for specially crafted bits or take selfies with the ice sculptures- the perfect way to spend a few festive hours.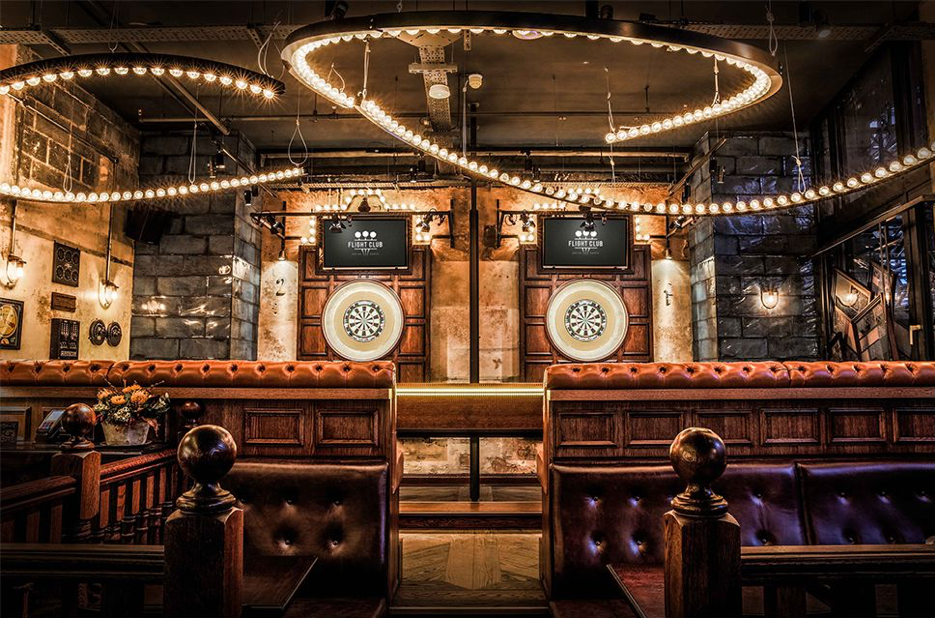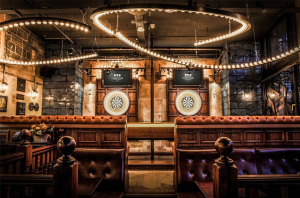 Whether it's axe throwing or crazy golf, Manchester's got it, but our fave new activity is Flight Club's interactive dart playing experience. Following its popularity in London, Flight Club has also migrated north and taken up residence on King St. Head here for a date night with a competitive edge or a classic company team bonding sesh. You can play every darts game under the sun through their interactive screens and there's no need to count your scores- technology will sort that out for you! Do be wary of getting a little too merry and accidentally booking four hours with your card behind the bar. We may be speaking from experience… Book this one, it's Christmas party perfection.
So, what are you waiting for? Pull your salfords up and come feel the buzz for yourself!
We'd love to show you around our little slice of Manchester's magic. Find out more about our private offices in Manchester, hot desking in Manchester – or just come and see it for yourself, and book your tour here.