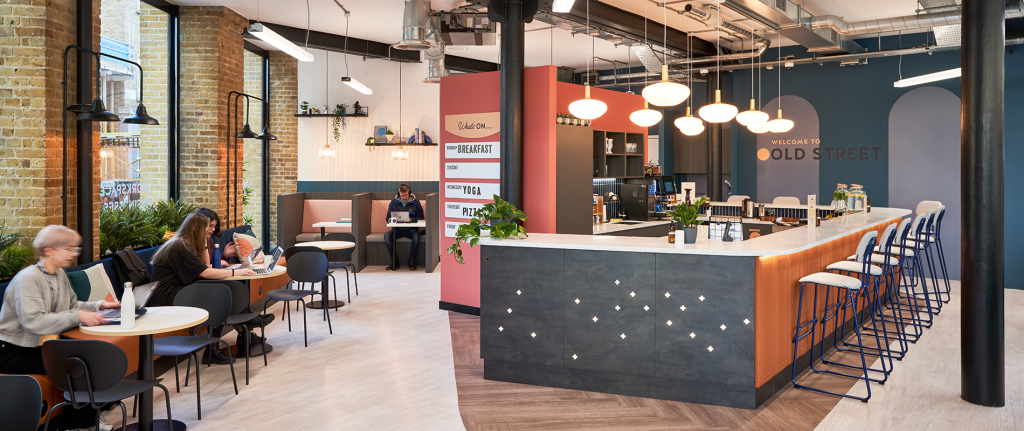 Coworking Space in Old Street
Choose from two flexible memberships, Flex and Unlimited, with access to our Old Street coworking space.
Pay as you go or monthly membership
Access to our online community
Great for individuals and small teams
Up to 50% off meeting rooms
Access to multiple locations in London, Reading & Manchester
Wifi, unlimited coffee & breakfast included
LEARN MORE
Shared coworking spaces
in Old Street
Created for flexible working, our two coworking memberships, Flex and Unlimited, offer access to multiple locations across London, Reading and Manchester, including our shared workspace in the heart of Shoreditch.
Including unlimited coffee, snacks, perks, socials, and access to a close-knit community of freelancers and businesses, it's the ultimate all-inclusive workspace for busy professionals, close to Shoreditch High Street, Spitalfields Market and Old Street roundabout.
Spread across 6 spacious floors, our Old Street workspace benefits from tons of natural light, exposed brick walls, and plenty of brain-fuelling breakout spaces.
Choose from two coworking memberships – Flex and Unlimited – depending on how often you plan to use workspace.
Flex
Pay as you go coworking
8:30am – 8:30pm daily access
Pay hourly with a daily cap – view prices
Access to all locations
Access to community portal & events
Perks including Wifi & refreshments included
Available to add: mail handling, registered business address, printing
25% discount on meeting rooms
Best value for up to 2 days per week usage
Hassle-free payment
£20 minimum spend per month
One-off sign-up fee of £25 applicable
£7.00 + VAT p/h
SIGN UP TO FLEX
Unlimited
Pay monthly, unlimited access
24/7 access
Pay monthly – view prices
Access to all locations
Access to community portal & events
Perks including Wifi & refreshments included
Includes mail handling, registered business address and printing
50% discount on meeting rooms
Best value for 2+ days per week usage
Hassle-free payment
Unlimited usage
No signup fee
£350 + VAT p/m
SIGN UP TO UNLIMITED
Not sure which membership is right for you? Book a tour