London was named the coworking capital of the world in 2022, and for good reason. With 1,322 spaces available, each with their own unique features, there's plenty to choose from if you're looking for a workspace.
If you're wondering which area to go for, here are nine of our favourite London locations for coworking (and why we think they're so great!)
1.   Coworking space in Hammersmith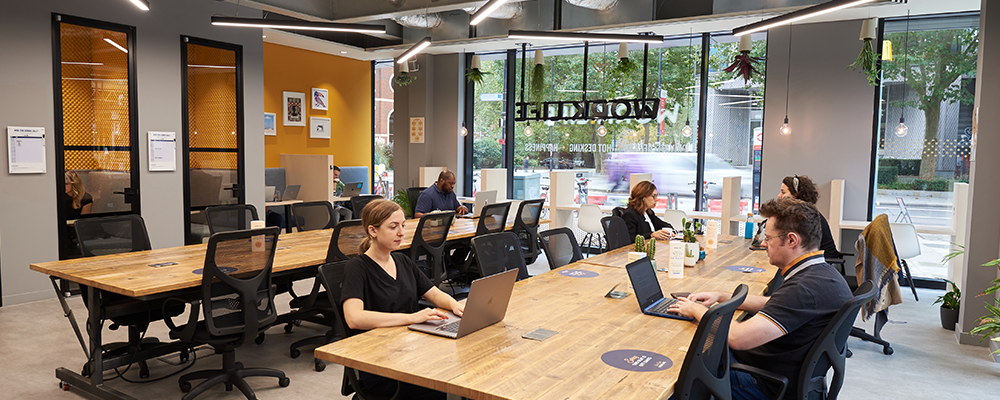 At less than 40 minutes from Heathrow, Hammersmith has a truly international feel! West London has fantastic transport links with the underground, overground and national express offering easy travel into city central and beyond.
Hammersmith has excellent places to take your lunch break and an array of places to shop and socialise after work, including the world-famous Hammersmith Apollo.
At our Hammersmith space you'll be mingling with professionals from educations, recruitment and law.
So, if you're a freelancer or looking for space to kick-start your small business – our W6 offices could be the perfect choice. The building's right on the River Thames and we offer regular social events, exclusive discounts with local brands and weekly yoga sessions.
What more could you ask for in a workspace?
2.   Coworking space in Camden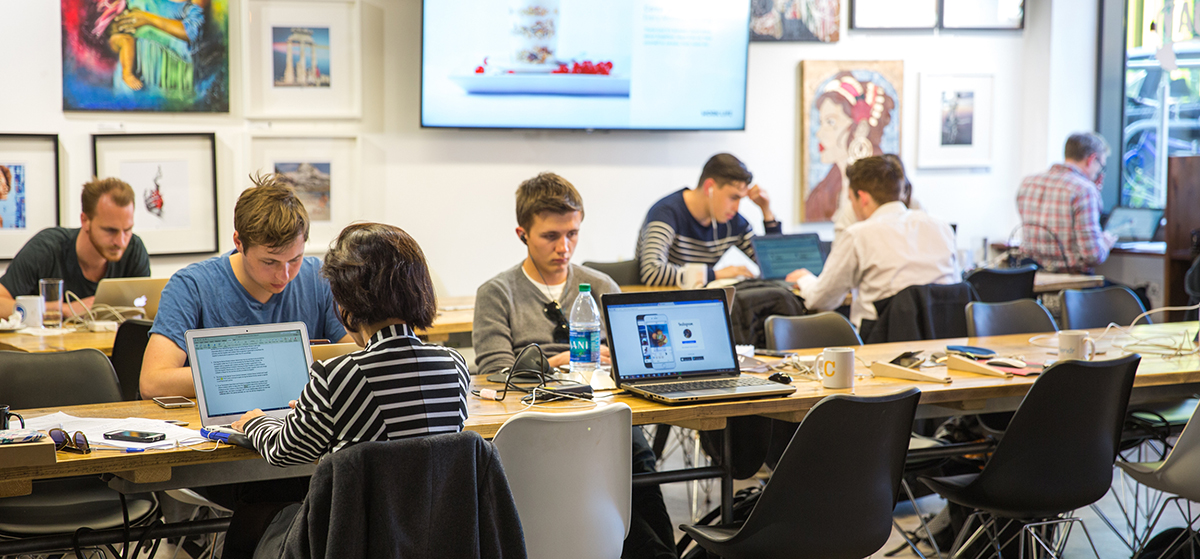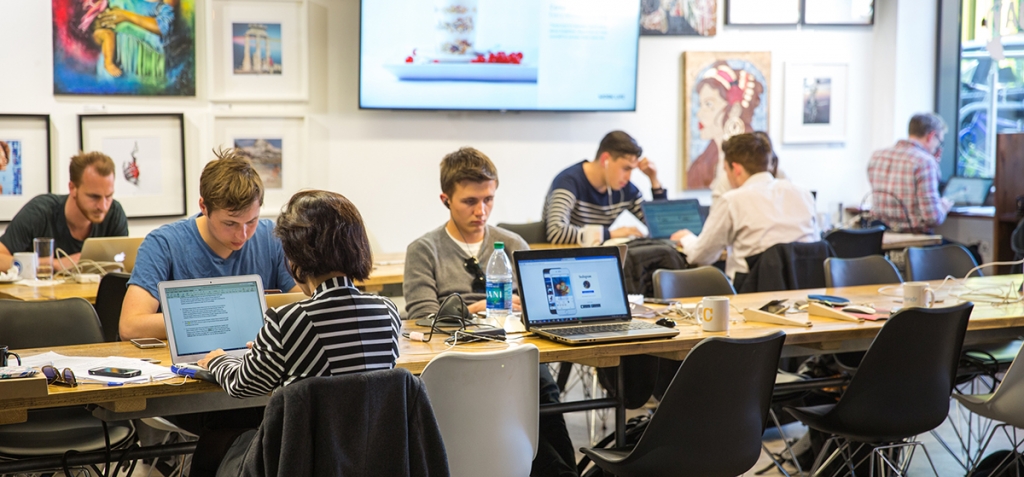 One of London's most vibrant neighbourhoods, Camden is renowned for its vibe, community spirit and creativity.
Camden is a real North London hub, it's close to Kentish Town, Kings Cross, Mornington Crescent and two Underground stations so commuting is a total breeze. And there's so much to do nearby, you can walk to Camden Lock and explore the market for international foods and quirky stalls. If you're about in the evening, catch a show at The Roundhouse or Koko.
There's no better way to get your creative juices flowing than taking a break from your usual office and joining our coworking space in Camden for a different view of the city.  At our Camden space you'll be hanging out with other professionals from marketing, healthcare and sustainability.
Whether you're looking to launch a new business, grow your team or freelance – everyone's welcome here! With regular networking breakfasts, community events and weekly yoga sessions – never miss any opportunity to meet and network with other members.
The best part? It's just a two-minute walk from Camden Town station and a four-minute walk from Camden Road station.
3.  Coworking space in Farringdon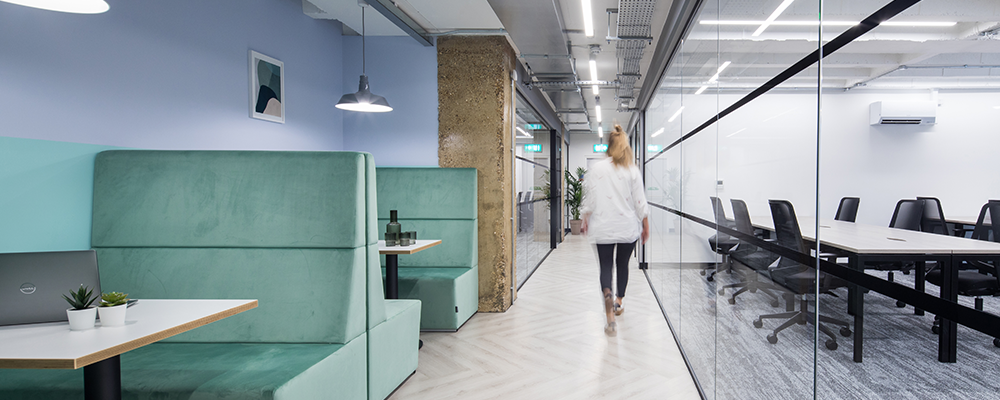 On the cusp of the City, Farringdon offers both great connections and first-rate culture.
With the fabulous Barbican Centre on your doorstep – this is the perfect place to work hard and end the day by treating yourself to a music festival, film or after-work drinks.
Farringdon is famous for its Smithfield Meat Market (which probably explains the number of meat-based eateries in the area, although there are plenty of vegan and veggie places too!) and its most infamous nightclub, Fabric.
Transport links are stellar; Thameslink and the underground (featuring the new Elizabeth Line!) all stop here.
Located close to both Farringdon and Barbican underground stations, our Farringdon workspace is ideal for freelancers, start-ups and SME businesses looking to grow their business. With plenty of perks and social events you'll have many opportunities to meet other professionals at our Farringdon space this is especially useful if you're working in the healthcare, architecture or fintech.
4.  Coworking space in Holborn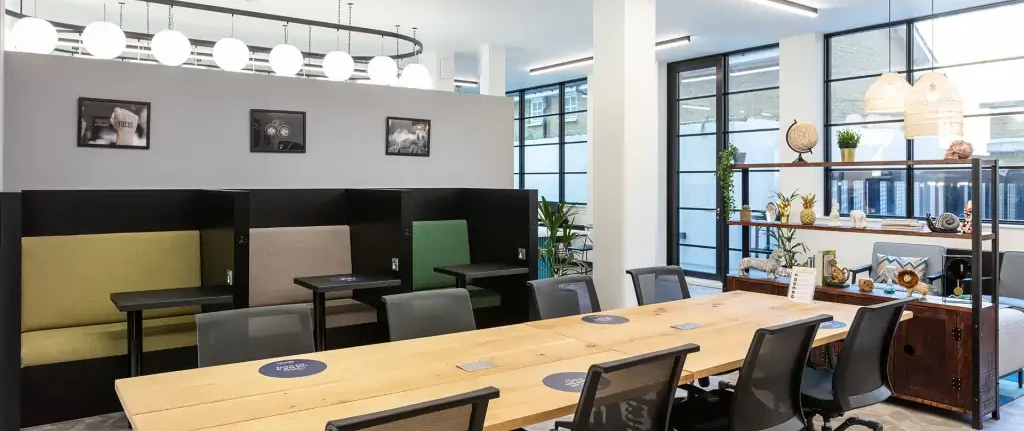 Famous writers and composers have made Holborn their home throughout the ages, and it's not hard to see why. It's a great place to work and play, boasting some of London's best historical spots, beautiful Victorian pubs, plenty of places to eat, drink and relax and a fantastic choice of international cuisine on virtually every corner.
Attractions in the area include the Charles Dickens Museum and Leather Lane Market, and if you're in the mood for some green space nearby, Lincoln's Inn Fields is rumoured to be one of the inspirations behind Central Park in New York.
If you travel for work, this prime location has fantastic transport links, and is just nine minutes away from Camden Town by train, a 13-minute ride from Waterloo and close to both Islington and Charring Cross.
Thinking of choosing a coworking space in Holborn? Look no further than walking distance from Holborn station. Our offices are set across three floors of shared coworking spaces, private offices, meeting rooms, private phone booths, and collaboration spaces. Enjoy weekly social and wellness events alongside breakfasts and coffee. Don't forget the best part – joining our close-knit community of businesses and freelancers, in Holborn this means rubbing shoulders with people working in digital, law and media.
5.  Coworking space in Fitzrovia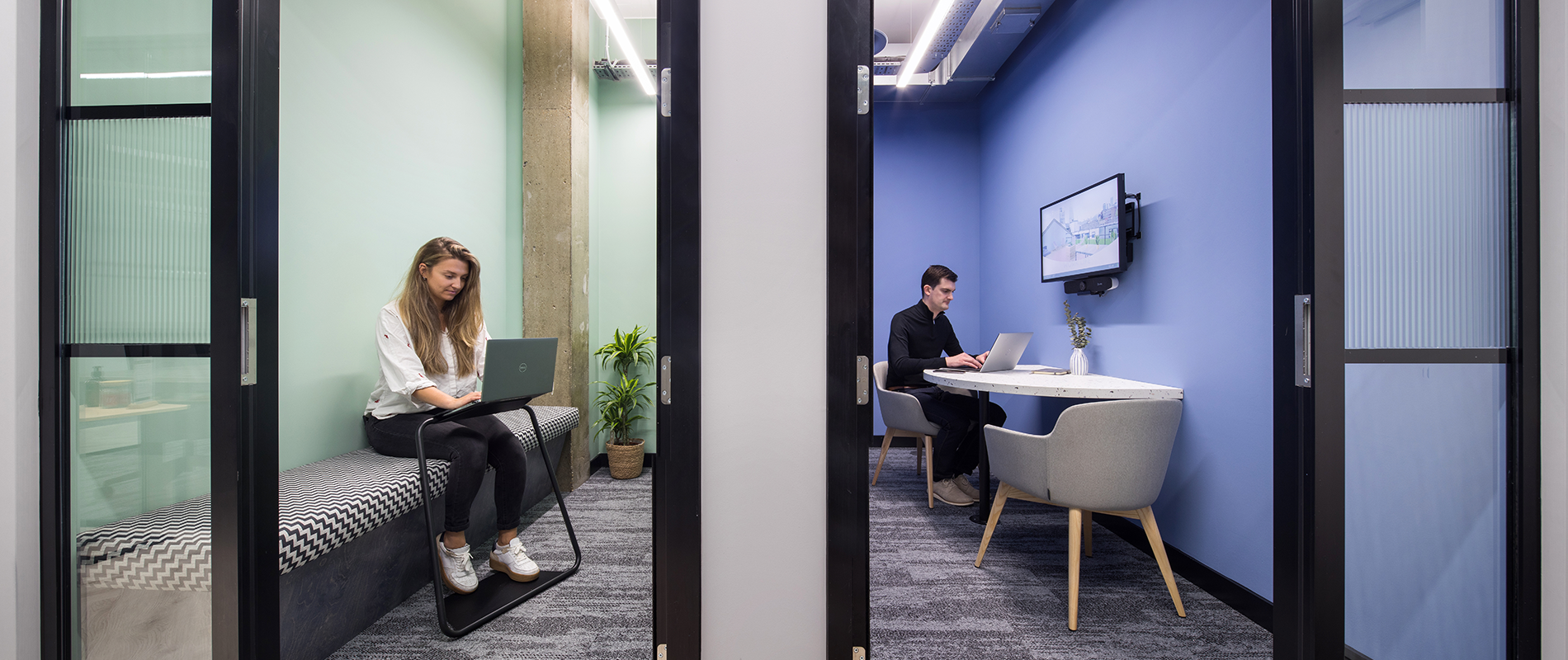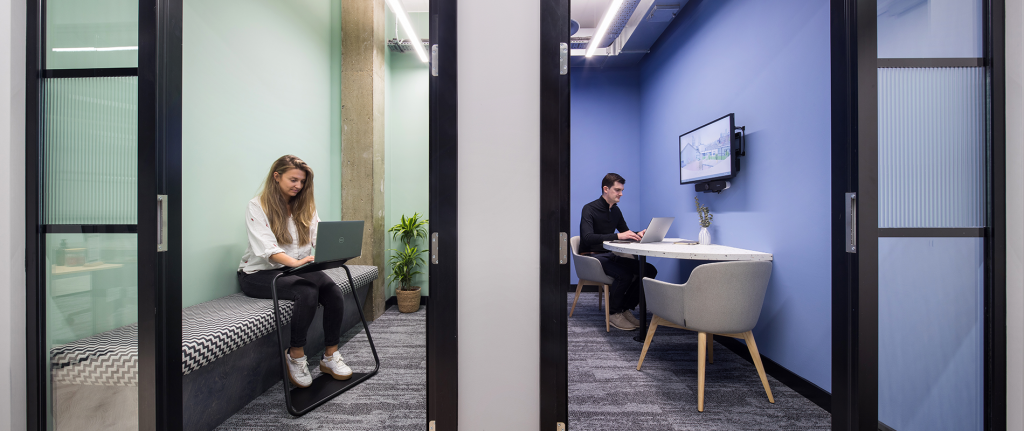 With tree-lined streets and red brick all around, Fitzrovia is a creative and eclectic hub in the heart of the city, brimming with things to do and see.
From Pollock's Toy Museum and the Dominion Theatre to the Grant Museum of Zoology, there is literally something to delight anyone who steps foot in this electric and affluent district.
Getting here is easy. Nestled in Central London, close to Oxford Circus and Goodge Street, and a 10-minute train ride from Waterloo, getting in and out of Fitzrovia to other parts of the city is a cinch on The Underground or one of the many overground options.
The stylish pub, restaurant and bar culture in the area see it come alive during lunchtime and the evenings, making it the ideal spot for work drinks or team lunches. The area's attraction as a creative district means you'll have endless events and networking opportunities to choose from.
Our coworking space in Fitzrovia is used by professionals in entertainment, digital and fintech.
It's perfect for small businesses and entrepreneurs, offering regular networking breakfasts, community events and weekly yoga sessions. Whether you're looking for a permanent spot in the city or a new view for a while, you'll have everything you need to succeed.
6.  Coworking space in Liverpool Street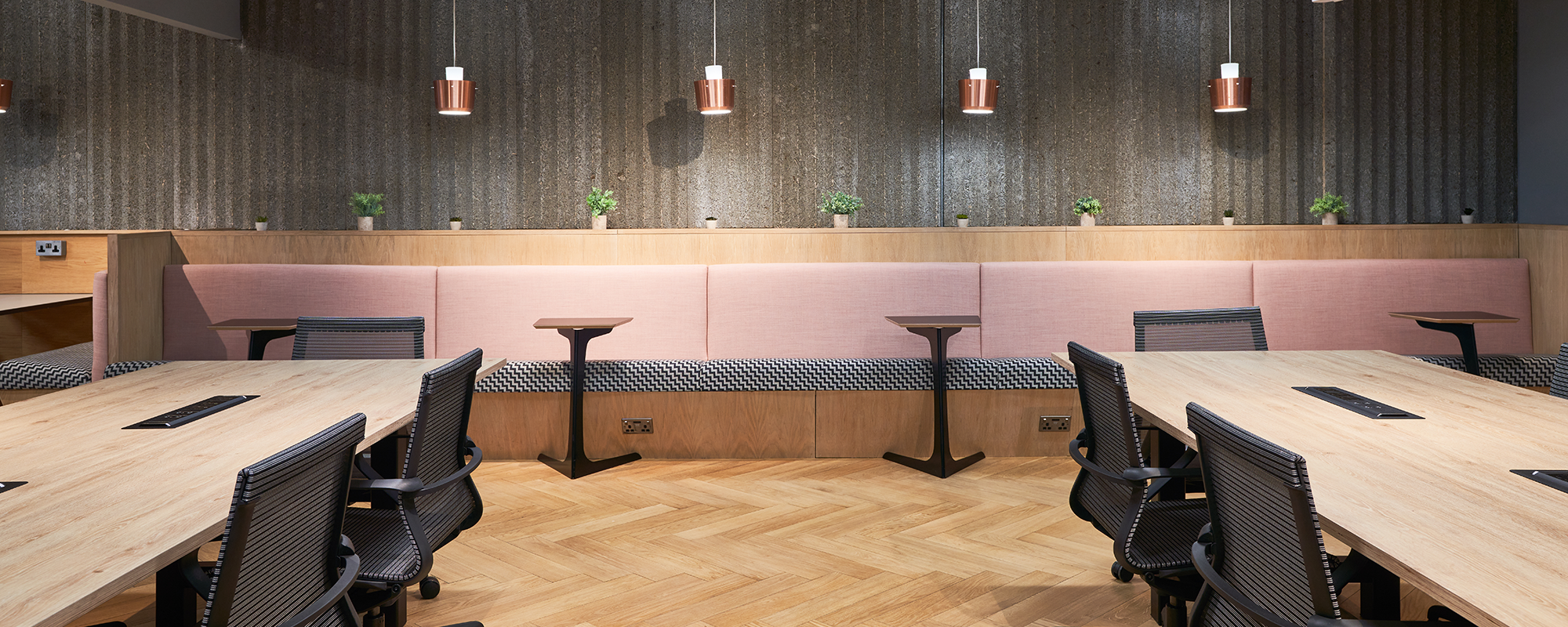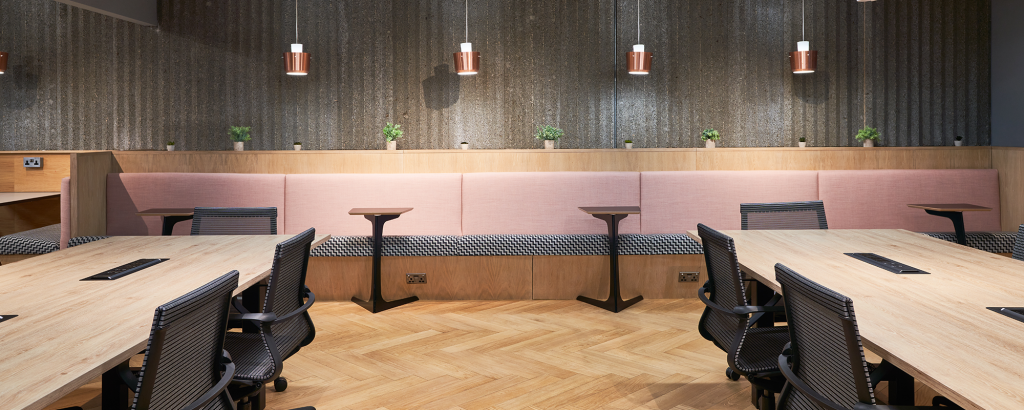 Surrounded by London's most iconic skyscrapers, The Gherkin, London Stock Exchange and the Walkie-Talkie, Liverpool Street is a busy commuter area in the city's heart.
Home to Liverpool Street station, which you might recognise from the British version of Monopoly, and with iconic spots like Old Spitalfields Market and eclectic Brick Lane just a short walk away, it's not hard to see why so many people love working and socialising in the area.
Choosing a flexible office here means you get to call the London Stock Exchange and the Bank of England your neighbours, and if you're looking to get out and about after work, the local curry houses and pubs won't disappoint.
Our coworking space in Liverpool Street spans seven modern and spacious floors with meeting rooms, breakout spaces, communal areas, and fully equipped kitchens. With perks and benefits such as regular social events, exclusive discounts with local brands and weekly yoga sessions, there's plenty to make our members happier at work.
With an address like Liverpool Street you'll be in the company of professionals in accounting, fintech and software, so whether you're a freelancer looking for space to kick-start your small business or a company looking for the perfect place for your team in the city, Liverpool Street is ideal.
7.  Coworking space in Old Street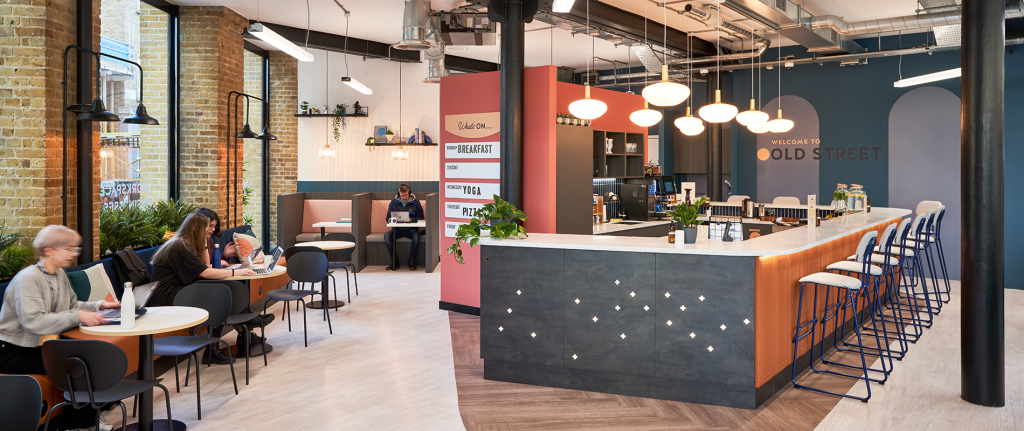 Old Street is absolutely brimming with start-up energy and over the past decade it's become the UK's answer to Silicon Valley, hence it's nickname, Silicon Roundabout! Fast-growing tech and creative media companies  are flocking to Tech City (yes, that's another of the area's nicknames) in ultra-trendy Shoreditch.
We love this location because it's packed to the hilt with bars, nightclubs and restaurants, and known for its creative culture, street art and shopping. It's close to Shoreditch High Street, Spitalfields Market and Brick Lane There are excellent transport links, and working in this area puts you within walking distance of Liverpool Street and Old Street stations.
If you're keen on an Old Street address, our coworking space in East London is spread across six spacious floors and benefits from loads of natural light, exposed brick walls, and plenty of brain-fuelling breakout spaces. We offer our members many perks and benefits, including weekly breakfasts, yoga sessions, and social events – perfect for freelancers and businesses looking to network with other busy professionals from software, digital and retail.
8.  Coworking space in Bermondsey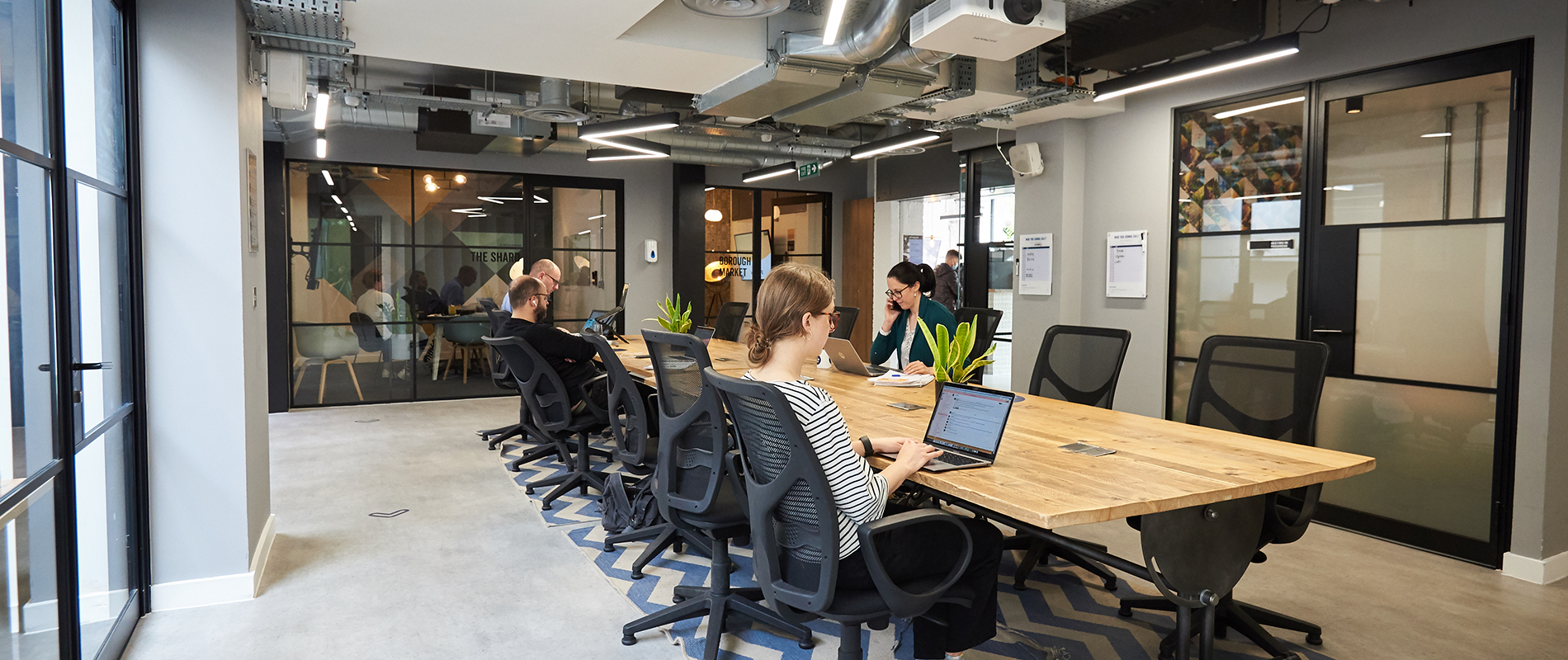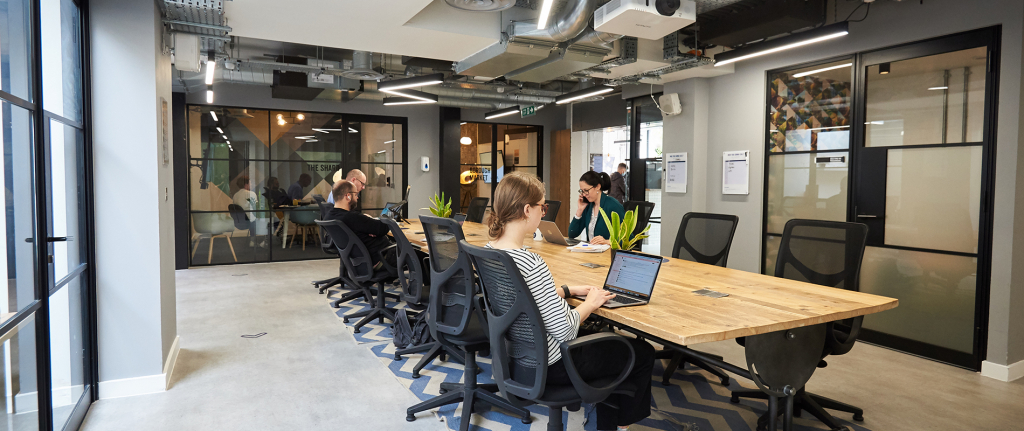 Bermondsey is the unsung hero of South London. The area oozes cool; from the food stalls at Maltby Street Market to the Bermondsey Beer Mile, there are dozens of laid-back places to eat and drink.
Take a break from your busy work schedule and get active by walking along the Thames or hanging around at the indoor climbing wall if the weather's not up for a stroll.
If you're looking for a flexible coworking space in South London, our space in Bermondsey is perfect for entrepreneurs, freelancers, and teams. The area is spread across several floors and has a picturesque roof terrace, while our memberships give you total flexibility to work however you want, whenever and wherever you want.
At our Bermondsey space you'll get to meet people from the worlds of recruitment, digital and sustainability. You also get unlimited coffee, snacks, pet-friendly offices, events and yoga sessions, making it the ultimate all-inclusive workspace for busy professionals.
9.  Coworking space in Soho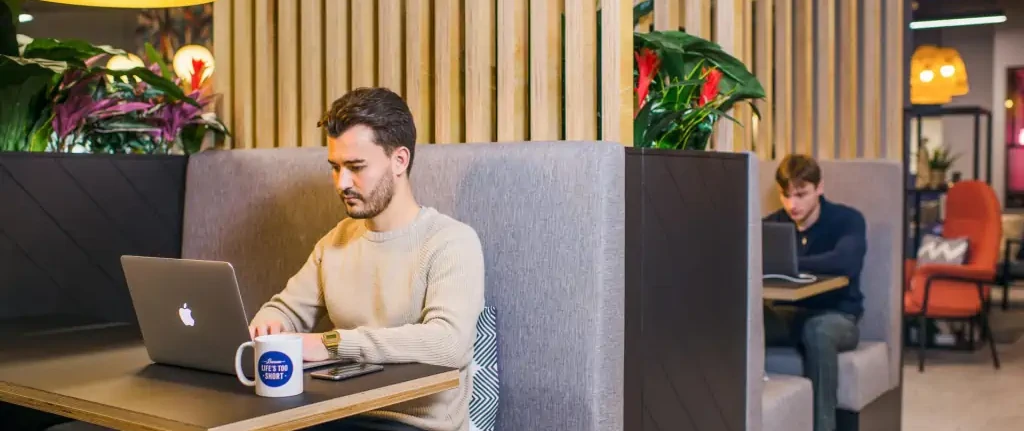 Soho is the beating heart of London, famous for its lively nightlife, China Town and world-class shopping, so if you're looking to work hard and play harder – a coworking space in Soho is where you want to be.
Browse the shops down Instagram-friendly Carnaby Street and take your lunch break at the hidden food court at Kingly Court or Berwick Street Market.
Soho is a stone's throw from the green spaces of Green Park and Regent's Park for a breath of fresh air, and if you need some entertainment, the West End is also within walking distance.
Excellent transport links in Oxford Circus and Tottenham Court Road mean it's easy to get around, and our coworking space in Soho is slap bang in between. It's spaced across two floors with meeting rooms, breakout spaces, communal areas, and fully equipped kitchens. If you're in creative and design, digital or software you'll get a kick out of meeting other people in the same industries at our Soho space.
Good to know – You can gain access to our coworking spaces in London and multiple other locations across the UK including Reading and Manchester by signing up for our flexible coworking memberships. Not sure which membership is right for you? Book a tour or speak to one of our team members today.