Want a flexible workspace you can use sometimes but are not ready to invest in a full-time office? Try Flex – Work.Life's pay-as-you-go coworking membership.
A day in the life of a freelancer is never the same as the next. Freelancers work for themselves, meaning the 9-5 doesn't necessarily exist, and the idea of a 'working day' isn't set in stone.
Because freelancers could work on long-term or short-term projects, it's beneficial to work agilely — moving around between hot desking in coworking spaces, finding cafés to work from, and working from home.
It's common for freelancers to find work from home in coffee shops and cafés to work in — but why?
The Benefits Of Working From A Café
For freelancers, working from a café instead of staying at home benefits.
Most importantly, working from home at a coffee shop often helps freelancers avoid procrastination. Since freelancers are their own bosses, it can be difficult to concentrate at home – it's easy to get distracted by the television, housework, family members, or housemates. Separating work and home life can also be tricky for freelancers, so it makes sense to have a place to 'go to work' in the day, and then come home and relax.
Being around other people can also be a good thing for those who spend a lot of time alone. Working from a café can help stimulate creativity and boost productivity — just try to find cafés to work from that aren't too loud or crowded.
And, of course, the on-tap coffee is a big plus. Many coffee shops will also sell food, so if you need to (and the location allows it), you can work from a café for the whole day. A slice of cake or a cappuccino can be a great way to stay motivated.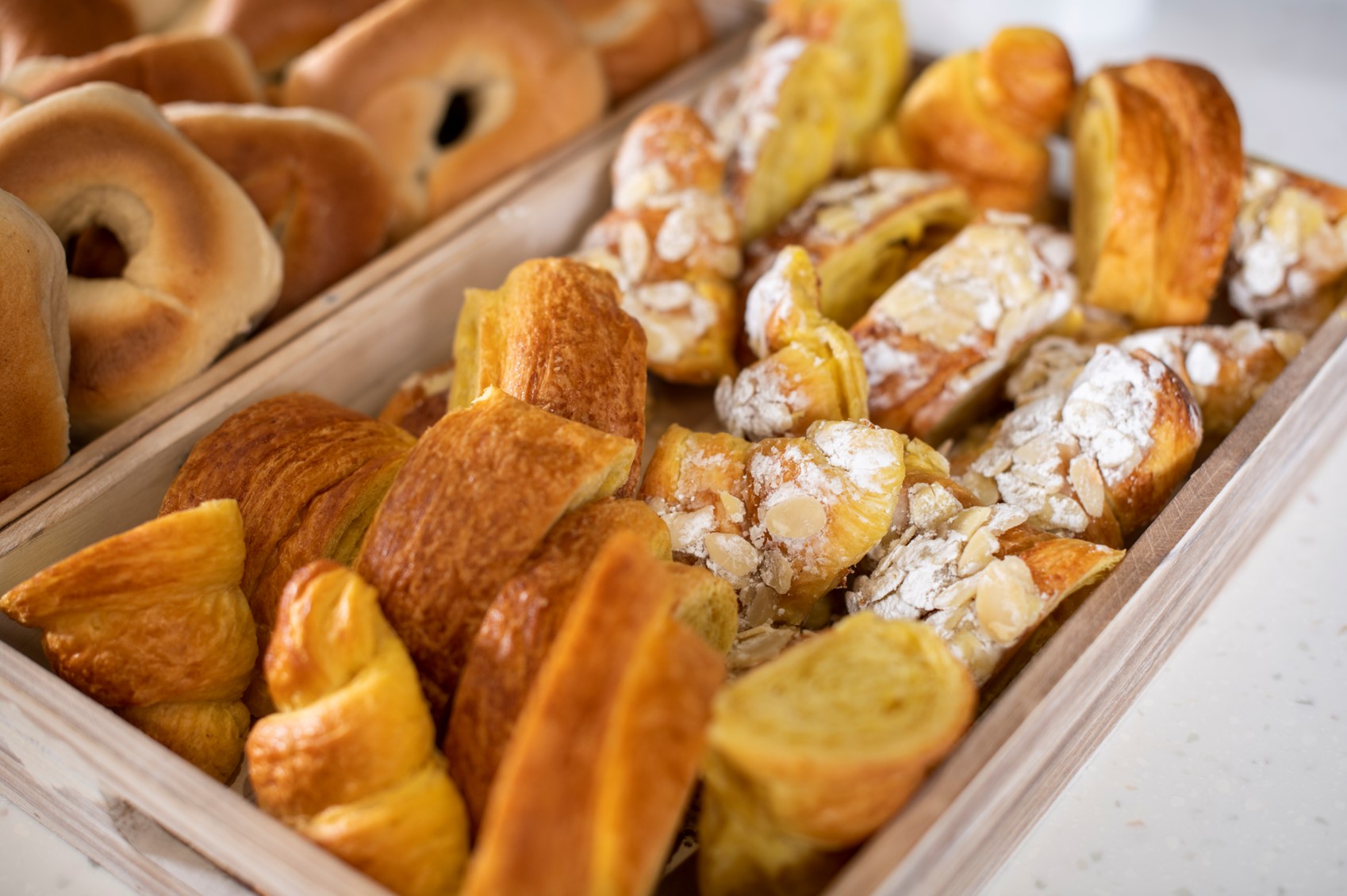 But there's one big problem: even your favourite work-from-home coffee shop is a place of leisure, not a place of work, and therefore isn't suitable for all working needs.
Is it bad to work from coffee shops every day? To help you decide what's best for you, we list some of the disadvantages of working from a café below.
Disadvantages Of Working From A Café
There are some drawbacks of working from a café, and they certainly don't suit every freelancer.
Coffee shops can be noisy; and while this can sometimes act as helpful background noise, it isn't ideal if you need to take a conference call or really concentrate on a project. If you need to meet a client, it's not the most professional to ask them to meet in a café – and you don't have any access to projector screens, whiteboards or tables.
Likewise, space can be a drawback to working from a café. Without a dedicated 'desk', there's a high chance that you could be in a cramped window seat or sitting at a table with lots of other people. Especially during the busiest times of the day (8.30 – 9.30 am morning commute and lunchtimes), coffee shops to work from can get extremely busy and the noise can be overwhelming, which isn't really conducive to productivity.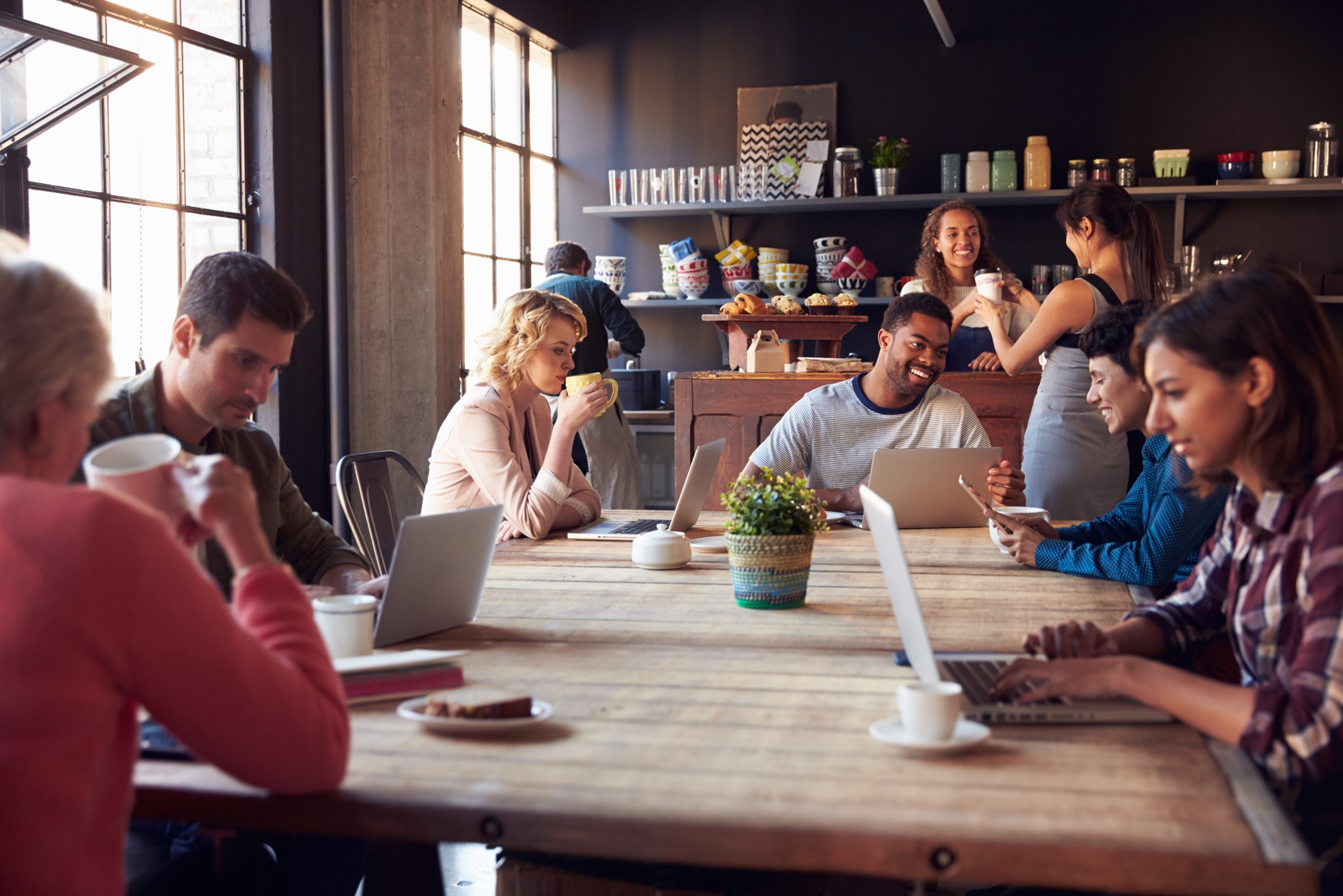 Seats in coffee shops aren't necessarily designed for sitting in all day, so comfort isn't guaranteed either. The facilities aren't always reliable, so it's best to check beforehand whether plug sockets and WiFi are available beforehand. If you need to set up a large screen or spread out your work, it can be difficult when the space isn't designed for working.
Although it's possible in some places to just buy one drink and stay the whole day, most coffee shops will expect you to buy a few drinks within the day, so working from a café can become expensive. Also, they often won't allow you to bring your own food or drinks either. If you're buying three or four hot drinks, plus lunch and a snack, the cost of working from home at coffee shops for long periods can really add up.
Finally, there's always the worry of overstaying your welcome. While coffee shops might not necessarily ask you to leave (although they sometimes will!), freelancers will often start to feel as if they should leave after a couple of hours. Plus, coffee shops usually close in the late afternoon, meaning that you may have to move elsewhere.
Even the best coffee shops to work from can have problems with productivity and wellbeing.
Tips For Finding The Best Coffee Shops To Work From
If you decide that working from a café is right for you, then there are ways to streamline your experience. If you've set your sights on working from a coffee shop, take a look at our top tips to help you find the best cafés to work from:
Do your research: Some coffee shops are better than others for working from. Try to find one that isn't too far away; otherwise, you'll use up valuable energy (and spending money) before you even get there. When you're finding coffee shops to work from, it's often better to choose an independent coffee shop or one designed to be a work-from-home coffee shop rather than a big chain coffee shop that is likely to be busier and more cramped. Try to find coffee shops where you can work for long periods of time. If you're working in London, check out this list of The Best Independent Cafes To Work From In London.
Double check the facilities: Before you go, make sure you have checked whether the coffee shop has free, fast and reliable WiFi, plenty of plug sockets, and room for people to work. If you want to stay working from the café for a few hours or more, make sure you know that is feasible. It's worth looking at the coffee shop's Google or Trustpilot reviews: often, fellow freelancers will have left helpful reviews. Call the coffee shop if you can't find any clear information. It's better to confirm before you get there and be disappointed.
Visit during off-peak hours: This won't always be feasible, but if you can, try to work from coffee shops when it's quieter. More space will be available and quieter, and you won't have to worry so much about overstaying your welcome. Coffee shops will usually be quieter between 10 am-12 pm and after lunch, but it's worth checking with your local coffee shop of choice as their busiest hours may differ.
Plan your day: Working from a café can get expensive if you stay for a whole day. To get the most out of your work day, make sure you have a clear plan in place. This might mean taking all calls during the late morning when you know the coffee shop will be quieter or taking a break between 12.30-1.30 pm to avoid working through the lunchtime rush. Coffee shops can be a great place for freelancers to concentrate, so plan your day and split up your workload accordingly. Staying organised as a freelancer is vital.
Where To Work As A Freelancer: Alternatives To Working From A Café
Where should freelancers work if working from cafés isn't the best option?
Are you a coffee shop freelancer? Watch the summary video below to find out the truth about working from a café.
Going solo and finding work as a freelancer doesn't have to mean abandoning the whole working infrastructure. That's what Work.Life is all about! Knowing first-hand the problems that freelancers face, we've developed Work.Life Flex – a unique membership option for freelancers to join our collaborative workspace. There is no commitment or sign-up fee; the tech behind your memberships seamlessly combines the best bits of Uber and Oyster Cards and applies them to your world of work.
Operating on a pay-as-you-go basis (for only £4 per hour), Flex gives freelancers proper workspaces 7 days a week: ninja-fast WiFi, standing and sitting desks, leave-me-alone focus booths, and private phone booths. Work.Life office spaces give you everything you need to run your business, including access to printers, meeting rooms, and somewhere to meet clients in an office. Throw in the fact that you get free, unlimited, locally roasted coffee and breakfast, and it's a no-brainer! The cost of coworking spaces often works out cheaper than working from cafés does.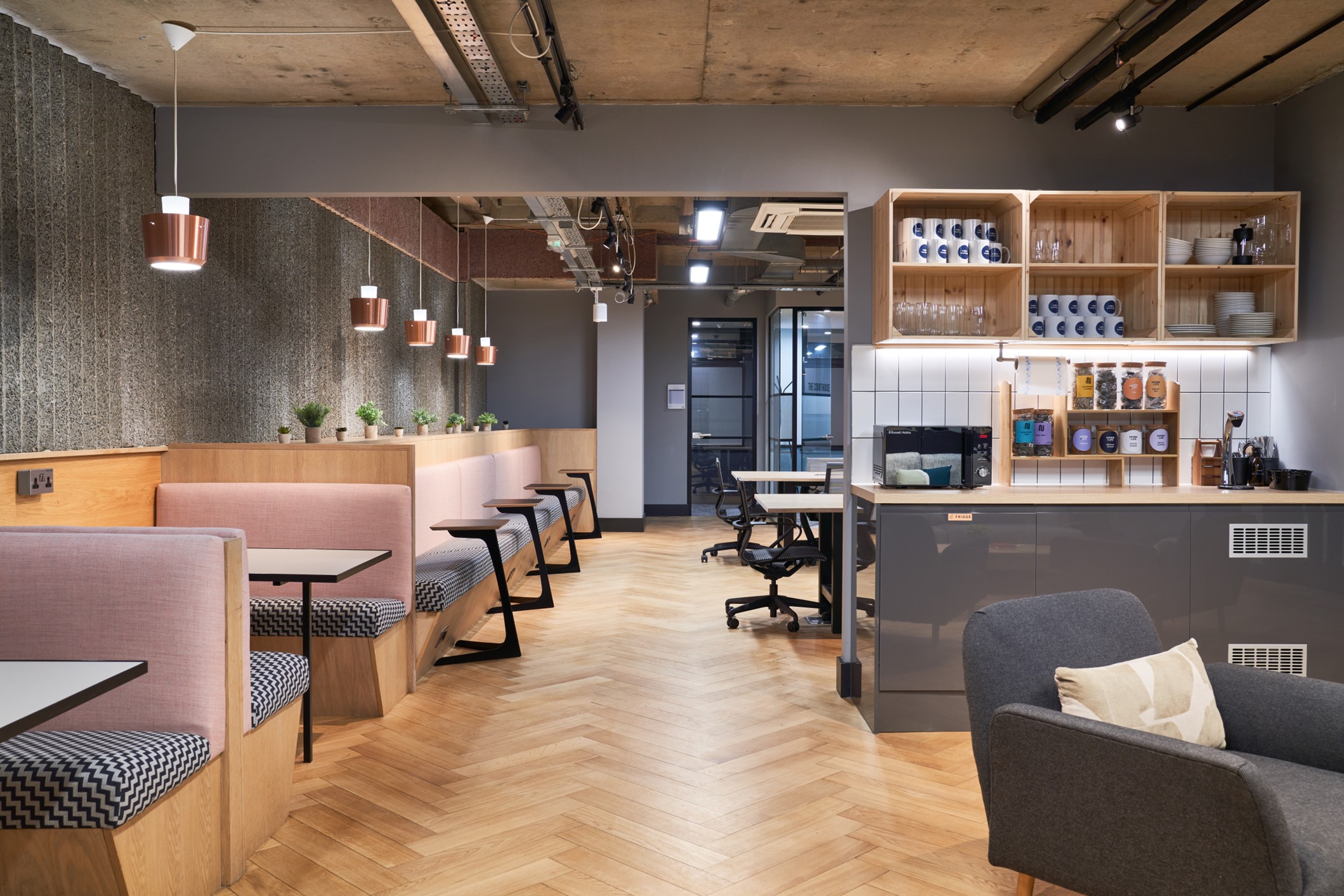 There are so many benefits of coworking as a freelancer. For the price of a coffee, you can have a proper workspace, with all of the perks of a modern office, and free coffee too! We know freelancing has a big role to play in the future of work, and Flex office space is the perfect way to embrace that. It's the buzz of a coffee shop working, without all the distractions, the feeling of overstaying your welcome or the uncomfortable seating.
Join us in a Work.Life office space today
 More Freelancer Blogs On Workplace Wellbeing