A lot of thought goes into picking our locations, you know. We carefully choose where we open our coworking spaces, in places we'd like to spend our weekdays, and would really like to spend our weekends, too.
That means plenty of lunch hotspots, prime destinations for your team socials, and everything you need on your doorstep, whether you're meeting a client, catching up with a friend, or picking up a quick birthday gift.
On the cusp of The City and East London, Liverpool Street really has the best of both worlds; business district meets trendy social hub.
We recently moved in at 4 Crown Place, a stone's throw away from Broadgate Circle, Spitalfields Market, and Liverpool Street station. We're right in the thick of it with plenty of restaurants, bars, shops and cafes nearby (and to make it even better, Work.Life members get tons of great local discounts included in any membership).
Now we've settled in and made our way around the local attractions, we thought we'd share our top things to do – have a read below!
Top Things to Eat, Drink and Do in Liverpool Street
Best coffee
You don't actually need to step outside of our Liverpool Street workspace to get your caffeine fix, as you can help yourself to any coffee or hot drink you could dream of, supplied by Redemption Roasters coffee and Nemi teas.
But if you're after a walk-and-talk catch-up with a colleague or just need a quick change of scenery, there's plenty of ah-mazing coffee shops in Liverpool Street.
Redemption Roasters Broadgate
So we might be biased… but if you love our coffee and you just need somewhere for a catch-up outside of the office, there's a Redemption Roasters kiosk just around the corner in Broadgate Circle.
The Pavilion, 3 Broadgate, London EC2M 2QS
Grind Liverpool Street
Ideal for a sit-down coffee (or something a little stronger), Grind is an all-day restaurant and café with a sizeable hot drink and cocktail menu. Perfect if you need a spot to meet a client or teammate by day or by night.
38 Broadgate Circle, London, EC2M 2QS
BloomsYard Liverpool Street
THE CAKE. We need to say no more. This open all-day café sells incredible coffee and even better baked goods, including sweet and savoury pastries, cakes and sourdough crumpets.
Level 2, 100 Liverpool St, London EC2M 2AT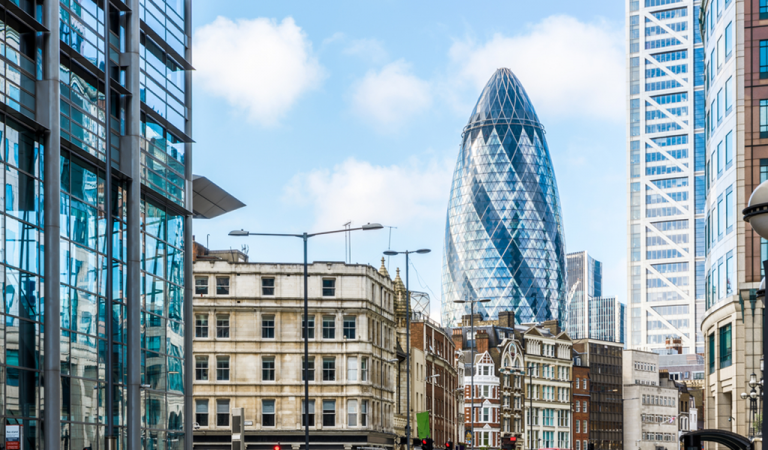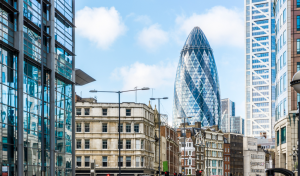 The Gherkin in all it's glory
Where to Eat Lunch in Liverpool Street
If you're working in Liverpool Street, you might have the best lunch selection in London on your doorstep (it's a bold claim, but one we're willing to stand by).
Right around the corner from Old Spitalfields Market (one of London's best food markets, certified by us… and by TimeOut), and Broadgate Circle, with all your classic lunchtime eats, you've got more food options in Liverpool Street than you could ever wish to try.
Work.Life's pick: Best Food at Spitalfields Market
It's a toughie, but at the time of writing it's gotta be Merkamo Ethiopian. 100% plant-based traditional Ethiopian cuisine, a must-try for vegans, vegetarians and meat-eaters alike. Trust us!
Honorary mentions go to Yum Bun (the dreamiest bao buns), Bleecker (sensational burgers), and Dumpling Shack (top-notch Chinese street food).
Work.Life's pick: Best Food at Broadgate Circle
Right around the corner from our Liverpool Street workspace, Broadgate Circle has endless food options to suit everyone's taste. From veggie, to gluten free, to all-out carnivore, there's fast food, sandwich shops, and sit-down restaurants to enjoy, whatever you're looking for.
If you're after a quick bite between meetings, get yourself to Birley's pronto for a sandwich, soup or salad. They've got other locations too, including New Street Square, close to Work.Life Holborn.
For a lunchtime treat, our top picks are Shoryu Ramen, Island Poke and HOP Vietnamese.
And if you're in need of a restaurant in Broadgate Circle for a client meeting or a team dinner, you can't go wrong with gourmet dim sum at Yautcha City. They also do an ah-mazing brunch on the weekend.
Work.Life's pick: Best of Liverpool Street
Fresh pasta. Aperol Spritz bar. Authentic Italian pizza by the slice.
It can only be Eataly; Liverpool Street's uber-popular Italian food market and restaurant. When you're working so close, it'd be rude not to.
Top Things to do in Spitalfields
If you're looking for things to do in Liverpool Street, try the famous markets in Spitalfields and Brick Lane. Open 7 days a week, you'll find vintage clothing, antiques, art and more.
Around Spitalfields, you'll also find plenty of shops including beauty, clothing – oh, and the spectacular Plant Warehouse, that we literally can't leave without buying some new greenery.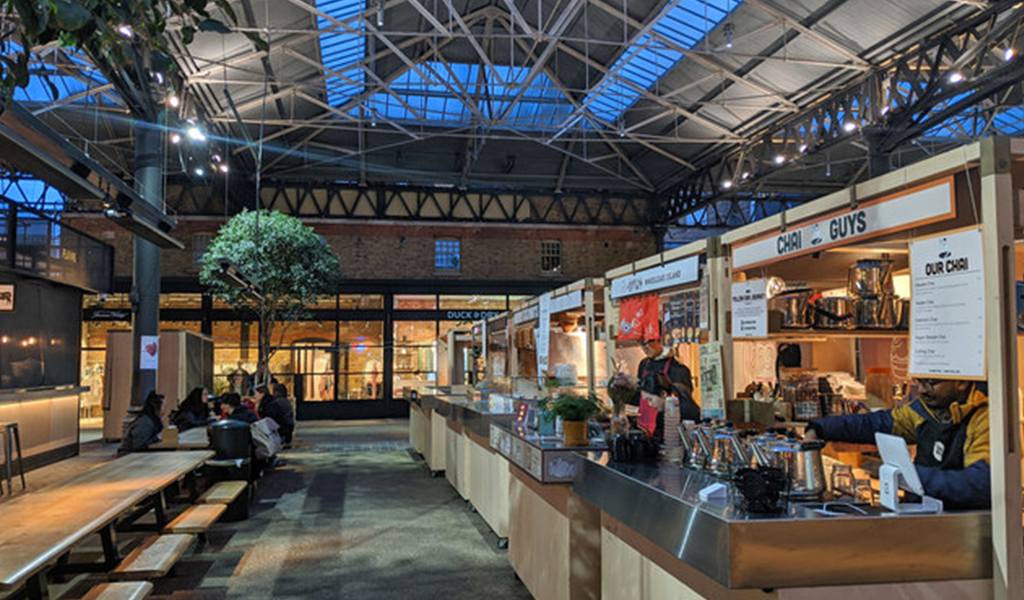 Spitalfields Market: a must-visit

Top Things to do in Moorgate
A City of London guide wouldn't be complete without a quick trip to Moorgate. Moorgate may sometimes be seen as merely a tube station, but we think it's so much more than that, with plenty of things to do in Moorgate for fitness buffs and foodies alike:
When you've read our Liverpool Street guide, why not read our guides to other London neighbourhoods?
Want to become a member at Work.Life Liverpool Street? Find out about our coworking spaces and private offices, available now to rent in Liverpool Street.