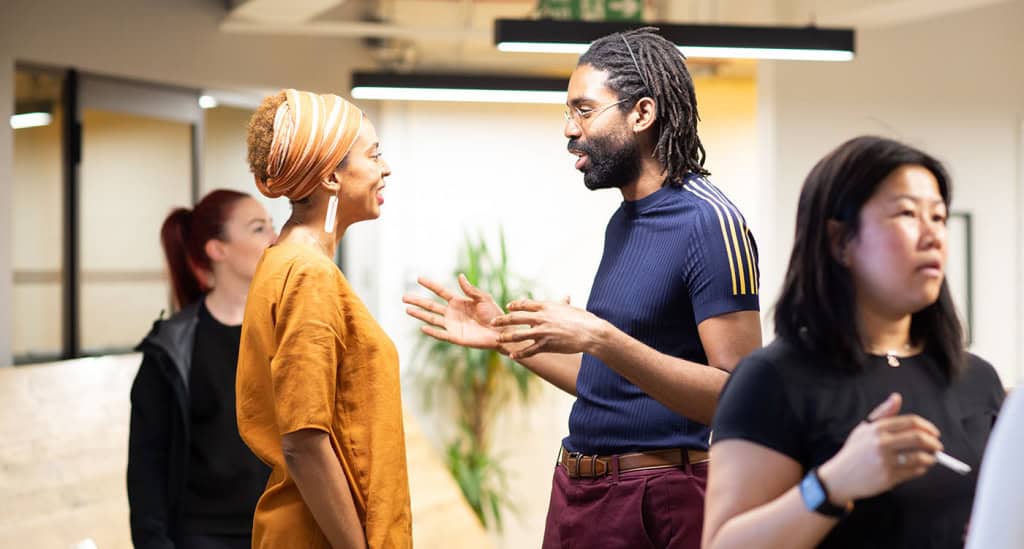 Professional networking is an important aspect of business; it can help people find jobs, hire talent and connect with potential customers. Although networking is especially valuable in sales jobs, it can be valuable in almost every role and type of business. But professional networking can be a difficult skill to master, especially if you're an introvert.
With a fear of being rejected, introverts will often find it hard to attend networking events, approach strangers, liaise with new people and develop valuable connections; which are key parts of networking. But even if you're an introvert, that doesn't mean you can't successfully build a professional network by drawing upon your own unique skills. Check out our guide to networking for introverts here:
What Is Professional Networking?
Professional networking is a type of networking, specifically relating to work and career advancement. The reason for professional networking is to build and develop effective business relations, through a range of platforms. When someone has a professional network, it means they have a network of connections they can draw on for work-related reasons.
Building a professional network can involve both attending events and networking in person, as well as networking online, usually on social media. It's usually thought that LinkedIn is the best networking platform.
Why Is Networking Important?
Professional networking is important in a range of situations; from seeking a new job, to making sales. It's helpful to build up a professional network over time, so that when you are job searching, looking for a reference, an introduction or a favour, you can draw upon your network and use it to your advantage.
The most important part of professional networking is that it shouldn't just be an exchange of business cards, but building and developing strong relationships. This is where it becomes more difficult to network as an introvert.
Professional Networking Examples
Meetup or Lunchmeet for specialist networking events
LinkedIn for networking, the most popular professional networking platform
Xing for online networking with like-minded individuals
Opportunity, for 'professional matchmaking'
In person at events hosted by your place of work
Professional Networking For Introverts
Networking as an introvert can be daunting, but with these simple steps you can still reap the benefits.
1. Arrive early. If you're planning to attend a professional networking event, that's great – chances are you'll surprise yourself! Step one of networking for introverts: try to get there early, so that you don't arrive when groups have already formed at the event.
2. Ask questions. At a networking event, asking questions takes the pressure off you; because everyone's eyes are focused on the person responding. It'll give you time to think and show you're engaged and interested. It's also important to actually listen to what people are saying.
Despite their reluctance to network, Stephen Thomas explains that 'introverts make the best networkers because they're good listeners and tend to be more interested in other people than about talking about themselves'. Ask questions and really listen to what other people are saying, and don't feel that you have to talk a lot.
3. Prepare what you'd like to say. When you do speak at a networking event, not everyone's a past master at delivering an elevator pitch off-book. Practice at home first, bring a prompt card with bullet points if you need to. People care about what you have to say, not so much about a Bafta-winning production. Try to prepare some things you want to say; we know it can be nerve-wracking but don't go to an event and not get involved in some way, because you're only wasting your time.
4. Bring a buddy to networking events. Don't go it alone! That familiar face offers a bit of encouragement and support in a room full of strangers. They're also an instant cheerleader for you and your business.
5. Ask for introductions. If you're attending a networking event and are nervous about breaking the ice, ask the organiser to get the ball rolling for you. They're best placed to know who's attending so can direct you to useful contacts as a starting point. This is a great way to expand your professional network.
6. Request a shout out. Speaking slots at networking events are a common way to get to know who's attending, what they do, and how to find out more. But if public speaking isn't your thing, request a mention by the organiser. They usually open and close the event with a bit of blurb – why not get them to give you a shout-out as a new attendee?
7. Appear approachable. When you're attending networking events, think about your body language and posture. Feeling tense? Take a few deep breaths, some energised stretches and put the experience into perspective. You're more likely to build professional connections if you stay calm and appear approachable at networking events.
8. Speak to valuable contacts. At a professional networking event, it's about quality over quantity. Pinpoint a few people beforehand who you want to speak to, and make an effort to go over and talk to them. Networking and building professional relationships hinges on speaking to the right people.
8. Follow up. Our best piece of networking advice for introverts? After the networking event is over, follow up by dropping an email to the organiser and your new acquaintances, with a reminder of how to get in touch. Even if you hand out business cards (perhaps a bit passé these days but useful for some), they can get lost. You also can't put a face to a business card so you're less likely to remember who gave it to you or why.
9. Get online. Social media sites are also a great way to build up your network, and many introverts would feel more comfortable chatting to new people from behind a screen at home or in your office space. If attending a networking event is too nerve-wracking, try a better solution to networking for introverts: connecting with people online via LinkedIn or other online networking platforms.
We live and work in a digital economy and online networking – via social media – is now arguably as effective as meeting face to face, you can interact with other businesses, build your brand and showcase what you do while never leaving your front room. Social media is not without problems, but it is an extraordinary platform for people who are more introverted and can be a powerful tool for you and your business.
10. Create your own. If being in a formal networking environment is too much, then maybe create your own event in a place where you feel comfortable. You could meet at a pub, or a café, or in a shared office space – with two people or 20. You can talk exclusively about business or just get to know everyone and have a chat about last night's football. The point is that you can create networking events that work for you and give you the best possible chance of generating business leads. It's also a good idea to tailor your networking event to your business.
Professional networking is useful in many different careers, and it's an important skill to master – even if you're an introvert!
More Workplace Wellbeing Blogs
At Work.Life office spaces, we regularly hold member events and socials that are more about having fun and making natural connections than putting pressure on sealing that deal – making them the ideal networking events for introverts. If you want to get the networking ball rolling and join a workspace where you can have daily interactions, check out our office space locations here.