There are around 660,000 new businesses registered in the UK each year – that's 70 every hour!
Whatever sector you operate in, as a startup business you need a flexible workspace that's collaborative, productive, and fully equipped – all without breaking the bank. Startup businesses tend to have specific office space requirements; you need to be able to host meetings, take private calls, communicate and brainstorm with your team to come up with new ideas, and spend time focusing at a desk. Most importantly, as a new startup, the last thing you want to be focusing your time and attention on is finding the perfect office location, choosing an office layout, and paying to fit out the space.
To help you find the best office space for a startup company, we've laid out the key things you need to consider on your search. These will help you locate and design a business startup office space that will help you launch and grow your business. When you're considering which workspace to go for, remember to weigh up all of your options and think about each of these factors in detail. Your office space can make or break your startup business, so you have to make sure it's the right fit.
Start-ups and Coworking Spaces
A shared office in a coworking space can be a great option for startups. Coworking office spaces tend to be in central locations, with prestigious postcodes and nearby transport links. With an 'all-inclusive' service that includes facility management, a staffed reception, and access to several types of workspace, startups don't have to worry about set-up or maintenance – as everything from WiFi to utilities and furniture is included. This is a great option for startups who don't want to spend time worrying about choosing, designing and fitting out their start-up office space.
Plus, in a flexible workspace you gain instant access to a huge network of like-minded entrepreneurs and small businesses – perfect for startups who want to expand their professional network, make the right connections and grow their business.
There are many different types of coworking spaces, from female-only, to corporate or high-end, to tech-focused. Each coworking space has its own personality and selling points, so if you're looking for a co shared office space it's worth doing your research, and pinpointing your must-haves and nice-to-haves.
Check out our full list of private flexible office spaces in London, Reading and Manchester.
How To Find The Right Office Location in London and Beyond 
Even if you know which city you want to base your business in, finding the exact location can be more tricky. There are pros and cons to every area, and different locations might be better suited to different types of businesses.
There are areas of London known for certain things; East London's "Tech City", for example, is home to a number of tech startups, while Central London – areas like Soho, Holborn and Fitzrovia – house a range of agencies, creatives, mid-sized businesses and larger corporates. When you're choosing your office location, do some research on where might be best for your business to grow. Just do a quick search for the best coworking spaces in your chosen area and you'll find hundreds of useful lists, like this one: 'Coworking Spaces in and around Soho'.
It's also important to consider the local area. A great office layout with beautiful décor is all well and good, but if it's far away from any transport links with nothing to do in the surrounding area, it's likely to cause dissatisfaction in the team, not to mention make it difficult to meet with clients. When you're choosing your HQ, try to think long-term – is this location going to help us to thrive and grow as a business in the next 6-12 months and beyond?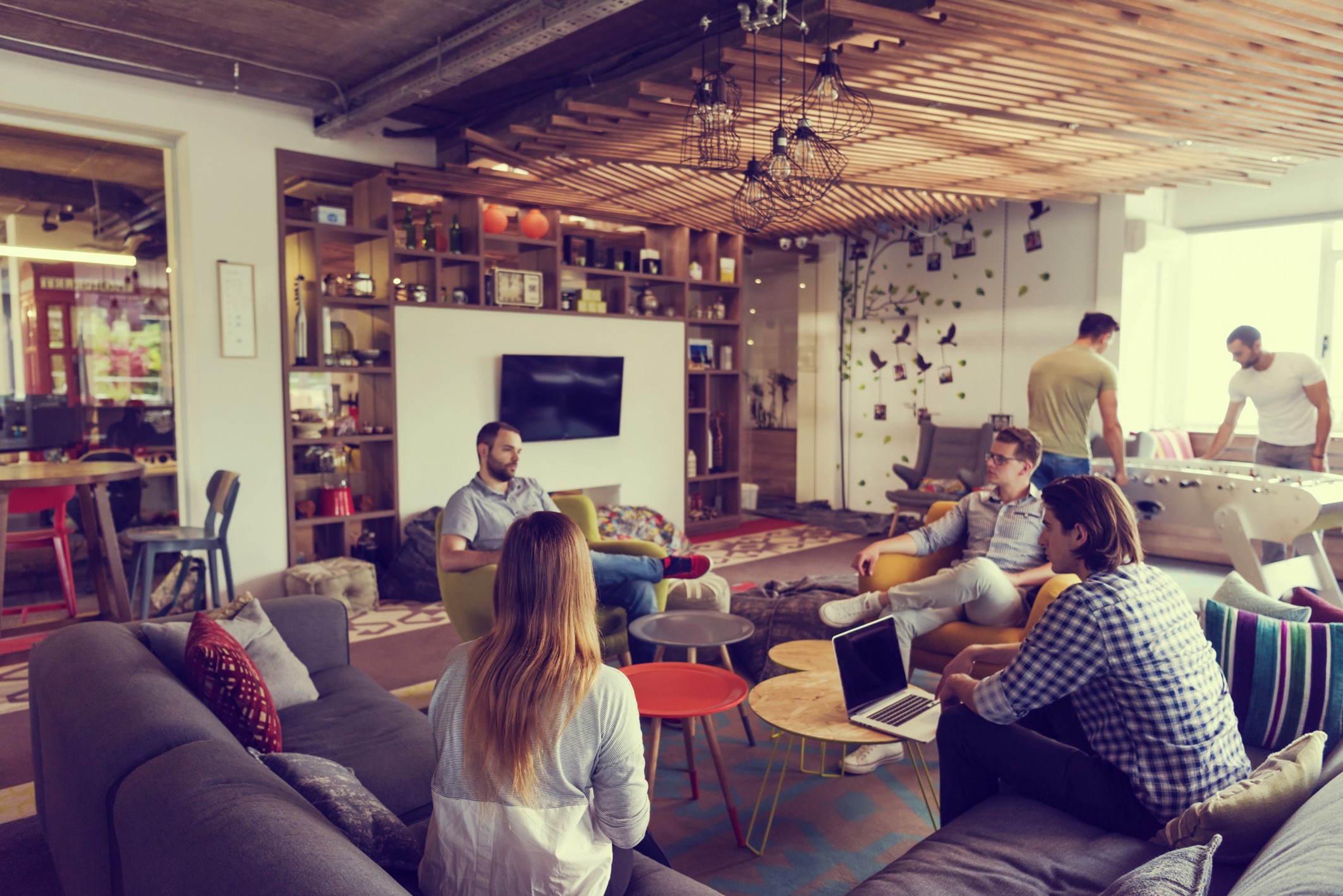 How Many Desks Do I Need In A Start-up Office Space?
A startup's workspace requirements can change drastically in a short space of time, so it's important to keep the design of your office space as flexible as possible. As with your workspace location, try to think ahead when planning your office design – if you hire 10 new people, is your space going to be able to accommodate this growth?
If you're in a coworking office space, you get the benefit of being able to up-size or down-size your space as and when you need to. If you're going for a traditional leased office or a managed office, think about your future hiring plans and how you can design your space to accommodate a growing team. There's no point renting an office space with room for 10 desks, if you're looking to recruit 30 new people in the next year.
Want to find your ideal office space? Book a startup office tour.
Start-up Office Design and Decoration Ideas
As a startup, collaboration and teamwork are key. When looking for your startup office space, make sure there's some kind of common area or kitchen where your team can meet to socialise, as well as clearly signposted areas for meetings, focused work and collaboration.
Many startups choose to adopt agile working, where their employees work in the way that best suits them, utilising different types of workspace to achieve their best work. An agile office design might incorporate private workspaces to focus, meeting rooms to collaborate, and more laidback "breakout" areas to talk through projects. Agile offices make it easy for employees to move around between workspaces; with different areas to optimise different types of work, and the flexibility to also enable part-time home working.
Your startup office space also needs to be a reflection of your brand and identity. As a new business you want the world to know who you are and what you're about, so when designing your space, brand your office with your logo, and make sure any other colours you're able to add are part of your branding. Your startup office décor and setup should be professional, but a reflection of who you are as a company. After all, you want any guests, clients, or anyone walking past to get a clear sense of your business from stepping into your workspace environment.
Some other great office decorating ideas include bringing in plants and art to brighten up the space, choosing ergonomic desks and chairs to improve comfort and safety, and ensuring there's plenty of natural light around the space to keep your team productive. Remember: the best startup office design is one that keeps your team happy and motivated at work.
Start-up Office Equipment
As a start-up, there's some office equipment you can't do without. Start with the basics: Wi-Fi and computer systems. It goes without saying that no office can function properly without these. When you're choosing your start-up office space, find out whether Wi-Fi is included or not. With a coworking space or a managed office, it's usually included in your monthly bill, but in a traditional leased office, you'll need to manage and pay for it yourself. The same goes for a phone line, scanners, printers and office furniture like desks, chairs and whiteboards.
If you're renting a leased office, the likelihood is that you'll need to completely fit out the space yourself, so you'll need to factor in the costs of start-up office furniture, office decoration and connectivity. Likewise, if you're not planning to rent a serviced office where all furniture is included, some great start-up office furniture ideas include investing in ergonomic desks and chairs, guest chairs, quality meeting room furniture, and ample storage. When you're searching for office space, make a list of everything you want to be in the space and work out how much it will cost to fit it out and furnish it yourself. This will help you decide between a serviced office space or managed office space, vs. a traditional leased office.
And finally, there are also some start-up office supplies you need to remember. Think desk essentials like stationery, post-it notes, staplers and folders, printer paper, filing systems, paper shredder, and monitors – plus extras like coffee machines and kitchen facilities.
Start-ups need office spaces that are flexible, cost-effective and collaborative. Finding office space that ticks all of these boxes can be difficult. With clear start-up office needs, it's important to plan in advance, and take into account all of the factors when making a decision: including the type of workspace, location, size, office space design, office décor, and layout.
Looking for business start-up office space in London, Reading or Manchester? Work.Life have private office spaces perfect for your start-up business, in 11 locations across the UK:
Are you a start-up in need of flexible office space? Contact us today to discuss your workspace requirements.
Recently featuring Work.Life as one of the best shared office spaces to work in London, specialist accountancy firm Nixon Williams states that the costs of renting an office are allowable as a business expense, and so renting shared office space could cost you less than you think. It can also provide that much-needed setting to focus on your business or meet clients, away from your home. Find out more on shared office space benefits (where we're featured!) here.