We're so proud of our brilliant, diverse team at Work.Life. As a company, we're all passionate about ensuring our workplace is inclusive for everyone in our team, and for our wider community of 6,000+ members, too.
So, we wanted to hear from some of our team about how they're able to be themselves at Work.Life, what makes them proud to work here, and how they build inclusive communities in our spaces.
Meet: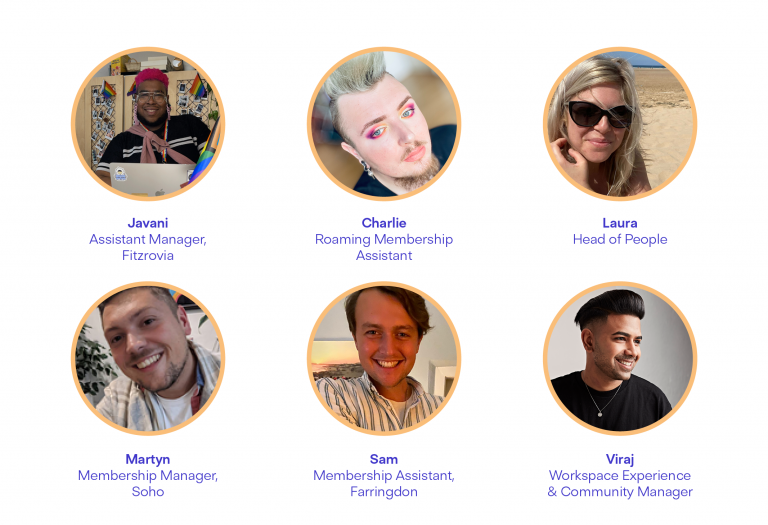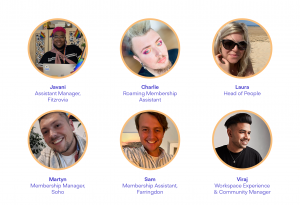 First of all, why are you proud of working at Work.Life?
Javani: The team. We have a great diverse team of people who really care for one another and it really shows when we interact with each other.
Charlie: I am proud of working at Work.Life, because I can express myself how I want – at Work.Life I feel support, not oppression.
Laura: So many reasons, but above all because I'm incredibly lucky to have a leadership role in such an inclusive business that enables me to tap into all our amazing peoples' different talents & passions. I am the cheerleader for our team's happiness at work – and that means I get to explore all the different facets of who our people are & what they can bring to the party!
Martyn: I am proud of Working at Work Life as this is a company like no other I have worked for before. They are forward thinking, innovative and you can see the direction they are going in… and it's good! There are a lot of coworking companies in London and Work.Life stands out as one that is trying to be a leader of this industry. Having a Culture Club, discussing ideas about Diversity & Inclusion and being a B Corp certified business is just a few of the reasons why working here makes me feel proud.
Sam: I'm proud to work for Work.Life for the huge effort that they put in for all their members and staff. They take diversity and inclusivity seriously, with so much planning going into how they can get involved in events (such as Pride), but also beyond just those calendar dates. They are genuinely supportive and always seem to be looking into what more they can be doing.
Viraj: Quite simply, at Work.Life we practise what we preach. We strive to be inclusive when it comes to both our member community and internal team, and this is evident across everything we do; from the diversity we have within our people and spaces, to the events and activations we put on, to our more recent B Corp certification. Community is at the heart of everything we do.
And how are you able to showcase your individuality at Work.Life?
Javani: Through my style and just being myself. I'm able to wear my bold, colourful outfits to work and just comfortably be myself with members and staff.
Charlie: Wearing whatever I want. And just being myself!
Laura: I was myself here from Day 0 – I remember even through my application process I answered questions almost without much filter as I felt a real authenticity through everyone I met and really felt comfortable to be 'me' as I got to know the team. I strongly endorse that we are all encouraged to bring our own individual thoughts, views, passions, preferences & ideas to work and to live confidently as ourselves.
Martyn: I can fully be myself here at Work Life and not feel compromised about my work output. As a Membership Manager for Soho, I feel very much at ease of being a Gay Man and part of a community that feels so inclusive. My individuality comes out in various ways and I love to show it! This can be through my clothes, my personality or through my many fun-filled events that I put on for the members with my team. We LOVE a good quiz in Soho and this is always packed with food, drinks and networking between the members. We make this a good time for everyone with the chance for people to meet others in the community. I normally host and compere the evening and throw in a bit of a Martyn twist to proceedings!
Sam: I think being able to be yourself, dress in your own way, and find your own style of doing things has been great. There is always so much guidance, but you are given the opportunity to put your own mark on the things that you do. I love that we are trusted to make our own decisions and, to some extent, shape the spaces that you are in.
Viraj: There are endless opportunities and streams where I'm able to showcase my individuality at Work.Life, and I can safely say I am my BEST self here; from my personality to my clothes down to my obsession with smelling good. As the Workspace Experience and Community Manager, I'm lucky enough to interact daily with Members, Tenants and the internal team alike and can safely say that I've never had to compromise who I am or filter my personality.
Do you feel part of a community?
Javani: Yes, the Work.Life community!
Charlie: Absolutely yes!
Laura: 100%! There is such a warm and welcoming way about Work.Life – not only do I have a likeminded community within the team, but I also feel really included in our member community, events, and pretty much every time I step into one of our spaces.
Martyn: Yes. Yes full yass! Working in the membership team you have a large amount of support that can help you with day-to-day problems. But where this company really shines is as a collective. There's a real want and need to see your colleagues get the help and support we all need and when we get together for our socials, the release and burst of energy in the room is really quite special. People are genuinely interested in your work and personal lives, and this human connection is everything and why I value the community here so much.
Sam: 100%
Viraj: Without a doubt! I feel firmly embedded within the Work.Life community and all the sub communities within it, whether that be within the internal team or the amazing member community we've built within our spaces. There is genuinely something for everyone at Work.Life; be it yoga, book clubs or drag artists on a bus singing karaoke.
How do you connect with your LGBTQIA+ members?
Javani: Through conversations about pop culture, drag race, and their lives and experiences. Just talking and discussing these things, connects us and brings us closer.
Charlie: Just sharing my story, having a conversation about LGBTQIA+ rights and problems.
Laura: I connect with everyone! My job is about building relationships and getting to know people across our whole community – the more you do that, the more people open up and share their story. From there, great conversations prompt thought every day about how we continue to be inclusive to everyone's wants and needs.
Martyn: We have a great Queer community here in Soho, with members from all walks of life, industries and sexualities. Soho is an area that quite easily attracts the LGBTQIA+ community, and so there is a natural energy that flows through the members and community here. People are unequivocally themselves and unfraid to show it, and it's why I love it here. Connecting with these members is about listening to how we can best enhance their time here at Work Life, and in doing so, more queer events such as networking, drag and art shows are all in the pipeline to express who you are in your own way.
Sam: It is early days for me at Work.Life and so have not yet had the chance to connect, but really looking forward to our queer networking event in Soho!
Why is an inclusive workplace important to you?
Javani: Everyone should be able to be themselves and feel safe in their workspace and I can't imagine working somewhere that would make me feel like being my authentic self is a problem. It has such an impact from socially to mentally, it's beyond important it's a necessity.
Charlie: It's not important, I think every workspace should be inclusive. I believe it's the most basic human right.
Laura: Because 'work' isn't just somewhere you 'go' – that has changed a lot in recent years & will continue to. Your 'workplace' both in-person and virtually is where you connect with other humans to do great work you can be proud of & develop your career. I'm proud to be part of an amazing community who, when they show up in our spaces, can be themselves and also bring out the best in other people.
Martyn: It means everything. It means being safe in a space we spend the majority of our lives in. Work should feel like a place where you are accepted and can be yourself. My workplace is a space where I can express who I am, and not be shut down for that. Work.Life for me goes above and beyond to make me feel inclusive in my workspace.
Sam: Being inclusive is just the right thing to do. It makes people feel engaged and connected and provide so much more character in a workspace. It is also great as it gives diversity of people and thought, meaning you can always ask the people around you for a fresh perspective on tasks. I also feel that when people can be comfortable and themselves, they work better and are more enjoyable to be around.
Viraj: As well as it being one of our key pillars, it is also something I hold dear to myself. We've progressed so much within the UK over recent decades with equal rights and D&I – this needs to be reflected in workplaces to showcase change and further educate those that may be a little behind. I draw so many parallels between how innovative we are at Work.Life against how inclusive and diverse our teams are. We are continuously collaborating, learning and growing.
How do you build inclusive communities?
Javani: Through being friendly, open and welcoming to everyone that walks through the door, no matter their background, gender or sexuality, everyone is treated the same.
Charlie: By asking what their preferable pronouns are. Showing empathy for them.
Laura: I take inspiration from our team. In each space we have at Work.Life, the membership and support teams have built amazing, connected communities that continue to grow and evolve as new members join the space & contribute. I find this really motivating & think about this every day as we continue to develop our team culture & grow the business.
Martyn: Our communities are all about the inclusivity. For me in Soho, we tailor our year to include all faiths, sexualities, national holidays, for all countries to make everyone feel welcome and included. We love appreciating different cultures and religions and giving people the opportunity to host an event too!
Sam: I just have one rule really… be who you want to be, as long as that does not stop someone else being who they want to be. There is room enough for everyone and I take people as they are and don't expect them to change for me. There are always certain situations for a tiny compromise when you come into contact with different personality types, beliefs and outlooks, but I hope people always feel able to be themselves and know they won't be judged.
Viraj: As the Workspace Experience and Community Manager, building inclusive communities is at the heart of everything I do. I want our teams and our members alike to have the best, all-in, inclusive experience across all of our spaces that everyone can be a part of and contribute to. From our diverse calendar of events to our huge range of member clubs, I am always seeking ways to bring people together to network, learn or simply make some new friends and its extremely rewarding to be a part of.
And finally… who's your LGBTQIA+ hero?!
Javani: MNEK, he's an iconic queer black man in music that has written and produced for some of the biggest names in music and all while being authentically himself. For that I have no choice but to stan!
Charlie: Michelle Visage
Laura: Bit cheesy this, but I think all of our team who identify within the LQBTQIA+ community & are vocal about championing their views on how we continue to build inclusive spaces & teams, are heroes to me. For me a hero isn't a pin-up, it's a person who chips away every day to ensure people around them feel included and heard – and we are privileged to have tonnes of those at work.life!
Martyn: All the Gay Black Trans Women that fought for where we are today.
Sam: It might be a bit sad… but my Mum and all she has done as an ally! She is so amazing and has even taken on a new job to help our community. She has been there for so many friends, for the family and for strangers. It may not be changing the world stuff, but she definitely has made life a whole lot better for a whole load of people in our community. She's the best!
Viraj: Marsha "Pay No Mind" Johnson
Want to join the Work.Life community? Read more about what it's like working for Work.Life, and our current opportunities here.