One of the biggest misconceptions about coworking is that it only caters to freelancers. Admittedly, throughout the history of coworking, it has often been advertised as the ideal for freelancers looking to escape the pitfalls and pains of the home or the café. And yes, a vibrant coworking space filled with like-minded spirits can be just the boost a freelancer needs. But it should be known that businesses of all different sizes are welcome and would do well to reap the many rewards of coworking.
Start-ups and SMEs especially would benefit from choosing a coworking space to help them ply their trade. A large number of start-ups and smaller businesses will fade or fall away for a wide variety of complicated reasons. Coworking spaces can offer the boost, the services or the guidance that can be the difference between success and failure for a start-up.
Coworking Benefits For Start-Ups
How does the atmosphere of coworking spaces benefit start-ups?
The benefits of coworking spaces can apply to start-ups and SMEs as they apply to freelancers. The vibrant and entrepreneurial atmosphere of coworking space will rub off as much on the teams of small businesses as it will on freelancers.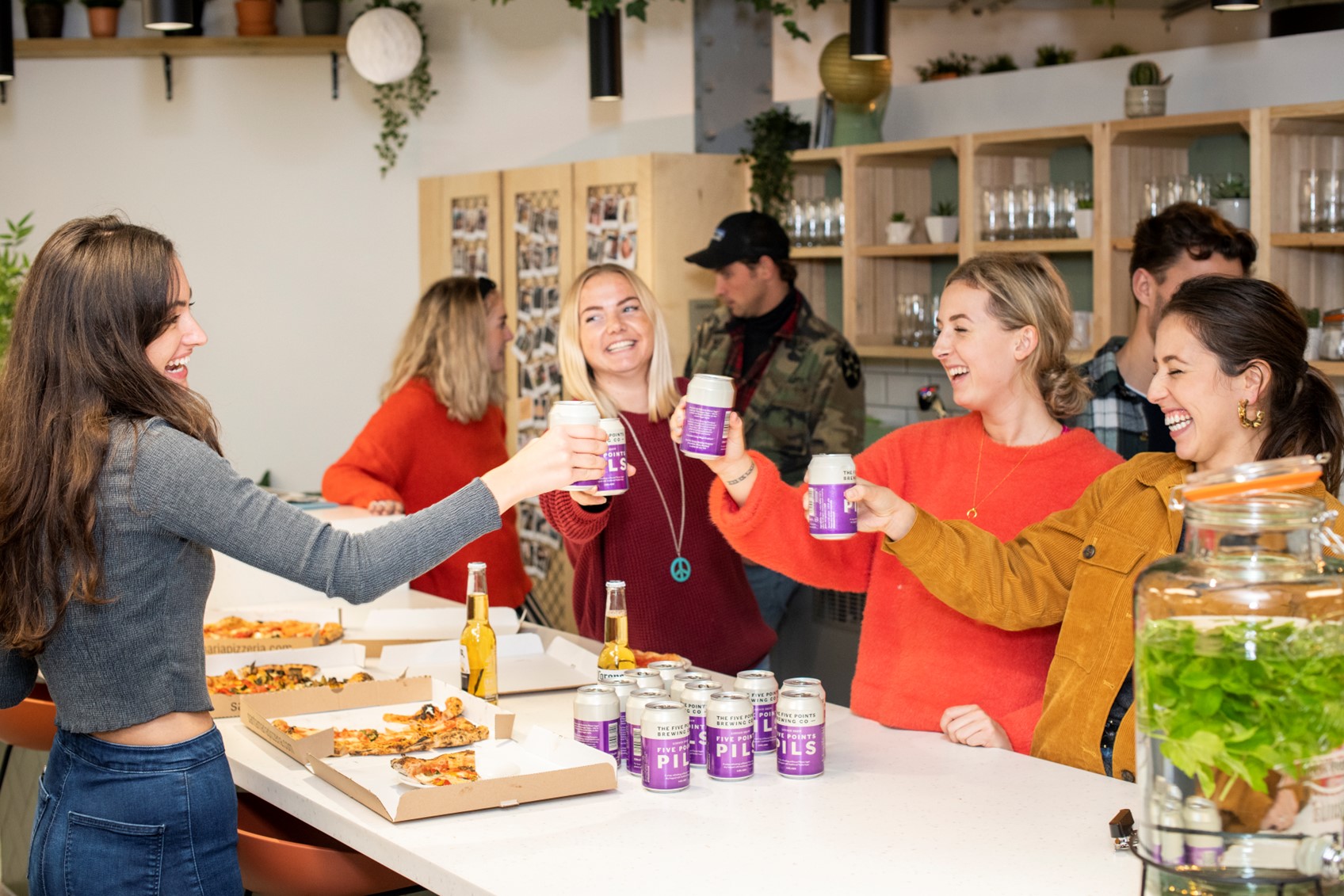 Many companies in their infancy are looking to cut costs wherever possible. So, any start-up with its own office space is unlikely to spend much jazzing up the space. Nor are they likely to spend unnecessarily on breakout areas, outdoor space or impressive design. A drab office can soon sap the life out of a team of previously inspired workers.
Coworking spaces, however, are often impressively designed with a range of facilities for members to take advantage of. The boost a freelancer will feel moving from a home office to a coworking space is the same boost that comes with moving from a lifeless office to a buzzing, entrepreneurial community. Meeting new people, sharing ideas, and networking will create excitement around your business that could be hard to muster in a drab, leased office.
How can start-ups or SMEs save money by choosing coworking spaces?
A start-up or SME looking to lease office space will often get lumped with a long-term, expensive bill for a space that needs another cash injection to turn it into a presentable workspace. As a start-up or small business trying to focus on growing your company, keeping costs and distractions low is a priority. Leasing an office space can be an enormous cost and an overbearing distraction.
Leased offices normally come with long, inflexible contracts, often running between 3 and 10 years. This is a big cost to take on for a company in its infancy — especially for central London office spaces, where leases are notoriously high.
That same leased office will also be an empty shell when you move in, meaning that you will have to spend big fitting out the space. Desks, filing cabinets, printers and copiers, telephones, internet connections, utilities, and the list of overheads that need sorting out is not a short one. These bills can soon pile up and, in the worst case, cripple a burgeoning business.
In coworking spaces, everything is already sorted out when you arrive, so much so that you and your team can arrive with your laptops and get on with the important stuff. Not having to spend cash on an office fit-out can accrue to massive savings for smaller businesses. Rather than paying for a long and expensive contract, you pay an all-inclusive monthly fee at a coworking space that ensures you can keep overheads low — meaning sought-after locations, such as office spaces in Soho and workspaces in Holborn, are far more affordable. Managing your money as a start-up or SME is essential, and coworking spaces provide this luxury.
How do coworking spaces provide networking opportunities?
Entrepreneur life can be isolating, and coworking offers a much-needed communal space to collaborate and network, which freelancers, start-ups, and SMEs can all benefit from.
Having your team members create bonds with a wide range of entrepreneurs will only inspire them and help them build better knowledge and ideas, which, in the end, only serves the success of the company they belong to.
Whatever your product or service, there will likely be other coworking members who can improve, use or help promote your product. These opportunities are much harder to come by in a private, insular office. Start-ups today recognise the value of collaboration and sharing ideas to help grow their ideas and products.
Additionally, sharing a space with more established businesses can be great for smaller businesses, as they can learn from and take advice from authoritative sources. A small business with a great idea may well suffer without the business acumen. So, gaining knowledge from speakers and co-workers can be essential for a young company.
How are coworking spaces flexible for start-ups?
Start-ups and SMEs are often looking to grow and expand their setup. However, growth can be unpredictable; it may take 10 months for your organisation to pick up traction and grow, and it may take 10 years. Coworking spaces have changed the office landscape by offering a solution to this problem that traditional, leased offices never could.
Suppose you are looking to lease office space for your start-up. You're currently a team of five but hope to grow rapidly over the next five or so years. You could lease a large office to cater for expansion in the future. However, if your company does not expand as expected, you will be stuck paying for an overly expensive office for years to come. So instead, you decide that it's better to lease an office that suits your current size. Yet, if your organisation sees rapid growth sooner than expected, you will be stuck with an all-too-small office and a need for extra space that can only be solved with awkward solutions. Either you can rent a second office and not have your team together, which is hardly ideal, or you can move your whole team to a new office and continue with payments on your smaller space, effectively throwing money away.
Start-ups and SMEs won't ever have such dilemmas in a coworking space. If there's an office available of a different size in the building, you're never more than 30 or so days away from changing your contract and moving office. This flexibility means that smaller setups don't have to take massive risks with their money and can grow without fear of it being too much or too little.
How do coworking spaces help start-ups work from better locations?
As a burgeoning company, you will probably have an ideal business location in mind. Somewhere where your business will fit in perfectly, with great transport links, and where your employees will be delighted to head into work every day. This can be an expensive proposition, though. Finding your own workspace in the perfect neighbourhood or office space in the City of London won't come cheap and, in the end, may have to be sacrificed for more pressing matters.
It doesn't have to be this way.
Another impressive aspect of coworking spaces is that they are often found in some of the best neighbourhoods, on some of the best streets in town. This means that start-ups and SMEs who would have otherwise had to head to less salubrious neighbourhoods can now set up shop in their favourite spots.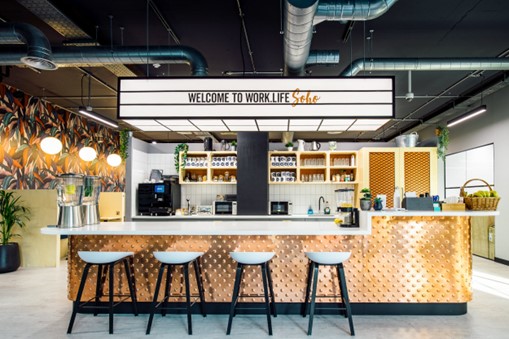 This can be vital for younger companies who want to stand out to clients with impressive business locations. It can also play a role in hiring the best talent and improving the morale of your current team. Start-ups and SMEs should take advantage of growing their business in postcodes that might otherwise be out of their reach.
Enjoy the benefits of co-working with Work.Life