As a freelancer, you have the option to work from anywhere; but that doesn't mean that all work environments are created equal. Although working from home has its benefits – especially for those with childcare commitments or caring responsibilities – it doesn't work for everyone. In fact some find it can be isolating, too distracting, or that it can stifle their creative juices. Not to mention the stress when the Wifi goes down…
Luckily, for freelancers who don't want to work from home every day, but want a flexible, productive, and affordable space to work, there are plenty of other options available. In fact, in 2022, there are workspaces popping up everywhere; from bars and restaurants, to hotels and members clubs. But when you're comparing an environment made for working with one that's not, what's the best (and importantly, the most cost-effective) option?
We've broken down the cost of working from a coffee shop as a freelancer, vs. the cost of a coworking space, so you don't have to.
The cost of working from a coffee shop
First up, the coffee shop. Hardly revolutionary – but coffee shops have always been a popular choice for freelance workers in need of a space to work. For it to be used as a workspace, a coffee shop must of course have a few key things; internet, a table, and coffee (duh).
If you work from a coffee shop, you'll be expected to buy something at least every hour or two.
The average cost of a coffee in London is £2-£4, and if you're adding a snack, you're already looking at closer to £10. Most coffee shops won't let you bring lunch from home, so if you're staying for a full day you'll also need to factor in buying lunch from there. And if it's table service, you might also be expected to add a tip on top.
Staying for the whole day can add up. Say you work a 9-5 day at a coffee shop:
1 coffee when you arrive, and again every 2 hours = anywhere between £10-£20*
Snack = approximately £2-£5
Lunch = approximately £4-£10
+ 10% tip = £1.60 – £3.50
= £17.60 – £38.50
*We wouldn't recommend drinking 8 coffees, so do substitute your Americano for something caffeine-free.
Additional costs to factor in (not included at a coffee shop):
Printing
Office supplies
Meeting rooms – if you need to meet a client or partner, a coffee shop isn't really the most professional setting. If you do choose to have a casual meeting in a coffee shop, you'll likely also be expected to pay for their drink, too. (more £££)
Not being able to get a space – if it's a quiet day, you can probably stay for longer, but if it's busy etiquette dictates you should probably only take up a table for an hour at most. You'll need to factor in the cost of not being able to get a table (a waste of your precious time).
The pros and cons of coffee shop working:
Pros:
Coffee shops will often be close to home
They can offer a productive environment to work in
Cons:
Coffee shops can be busy – meaning you can't always guarantee a seat, and they can get noisy at peak times
A coffee shop is not an environment meant for work, so seats and tables can be uncomfortable
You need to confirm what's available beforehand – are there plug sockets? What's the Wifi strength? Will you be able to take a phonecall?
It can all get a bit awkward – especially if it's a busy day, you might feel you're overstaying your welcome
In conclusion, a coffee shop works for a few hours of solo work, not for a whole day.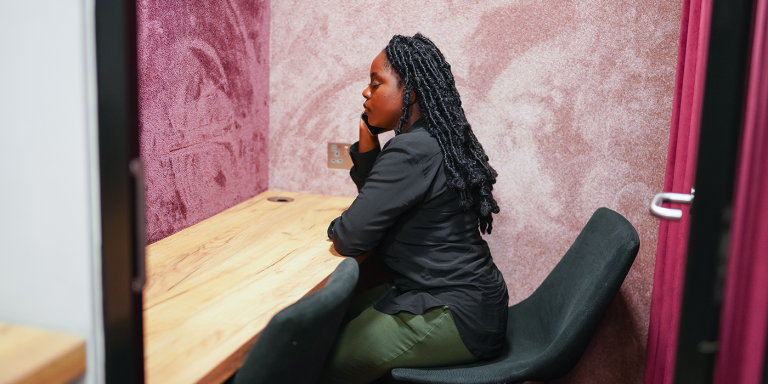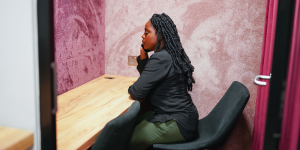 So what's a good alternative that won't break the bank? Here's where coworking comes in…
The best thing about coworking is that it can be just as flexible as working from a coffee shop. Many coworking spaces have pay as you go options, allowing freelancers to use workspace for as long as they need; for an hour while they're in between meetings, a few hours of a morning or an afternoon, or an entire day.
The cost of a coworking space
Taking Work.Life's Flex membership, and a similar 9-5 day:
£3.50 – £6.50 per hour + VAT, depending on location (daily caps: £22.50 – £40.00)
What's included as standard:
Various types of coffee & tea (as much as you can drink)
Snacks including fresh fruit and biscuits
Breakfast
Super-fast Wifi
Private phone booths to take calls
Option to bring a guest
Should you want to, you can bring your own lunch – or you get sizeable discounts on local eateries
Comfortable chairs and desks for optimal working
Desk availability software to check occupancy before arriving
Opportunities to grow your business through networking events, an online community portal, socials and a community message board
Option to visit any location
Heavily discounted meeting rooms equipped with screen sharing and meeting room snacks
Printing credits can be added for a small fee
The pros and cons of coworking:
Pros:
Almost everything you need is included, or easy to add on for an extra cost
You can be safe in the knowledge that you'll have everything you need from a workspace – fast Wifi, a printer, plug sockets, professional meeting rooms, private phone booths, coffee and snacks (very important)
It's still an extremely flexible workspace, with a membership that allows you to pay by the hour
The ability to visit any location is perfect for roaming freelancers who may need to drop into a workspace for a short period of time when in the local area
Open longer hours than a coffee shop – Flex members can access any space 8.30am-8.30pm, while our upgraded Unlimited membership gives you 24/7 access to any space
Cons:
Short-term, if you're staying for only a couple of hours, coworking tends to be slightly more expensive than dropping into a coffee shop. But that's not taking into account all the great benefits that are included…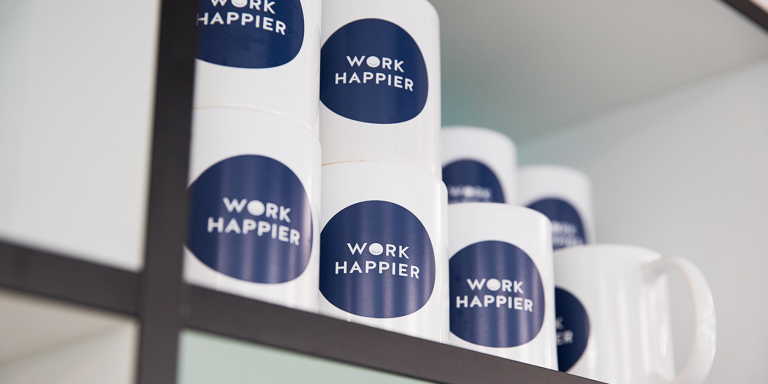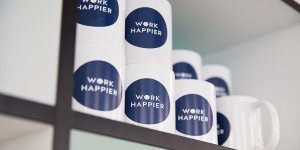 So, what's the conclusion here? In terms of cost alone, coffee shops might seem like a slightly cheaper option at first, but if the same amount is spent every day over a long period of time, it can really add up. Plus, you've got to factor in that working at a coffee shop doesn't always guarantee a table of your choice, and it definitely isn't the ideal place for a Zoom call or to host a client.
Not that we're biased, but if you're looking for a dedicated workspace with everything included for you, hot desking at a coworking space might just be the perfect option.
Sign up to our Flex membership, and gain access to a network of coworking spaces in London, Reading and Manchester.
Or, planning to use a workspace more frequently? If you're using a workspace more than 2-3 full days a week, an Unlimited membership works out to be more cost-effective.