Bridging the gap between growing and global businesses, Work.Life and Verizon have joined forces to open up the conversation between corporates and smaller businesses around innovation.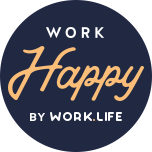 Work Happy is our debut event series geared towards opening up the discussion on happiness in the workplace. We'll be looking at themes of wellness, management, flexibility and culture, exploring the influence these topics have on people's workplace happiness.
Hunting for a place to host your event?
With 8 awesome locations across London, Reading and Manchester, one of our spaces could be the perfect location for your next event!
Learn more